IT Level 2 Certificate
Course Overview
The internet is an essential part of everyday life it is used for: shopping, communication, leisure, gaming and finding information and so much more! Designed in collaboration with industry experts, the qualifications focus on the requirements that today's employers demand.
---
On this course you will learn the skills and knowledge to design, create and test a fully functioning website to meet a client's specification. Through analysis of websites you will learn how to effectively use websites to communicate with users and the components needed to aid web accessibility. You will learn how to set up and test mobile communication devices and how to make improvements to the set-up of these devices.
You will also study the features and uses of mobile communication devices and be able to compare different devices. By the end of this one year course you will understand how businesses use mobile communication, the benefits and drawbacks this tool brings as well as the social and legal implications of using mobile technologies.
Working as part of a cohesive group, receiving tutorial support and study skills assistance from our specialist staff, you will build the foundations to enable you to be successful on a Level 3 study programme.
Module Titles
Communication In the IT Industry
Mobile Communications Technology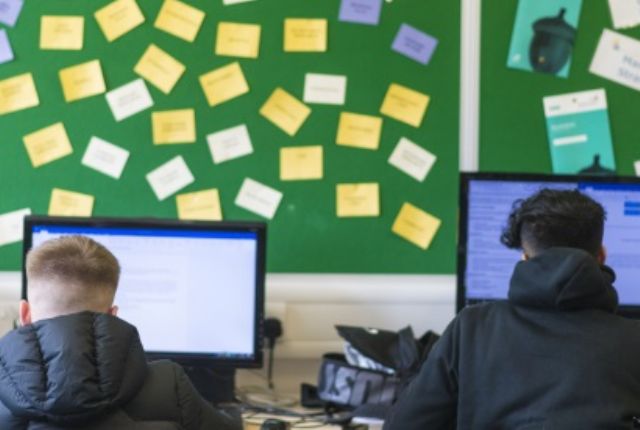 Key Info
Minimum Entry Requirements
Three GCSEs at Grade 4 including:

Grade 3 in GCSE English Language
Grade 3 in GCSE Maths
Assessment
100% Coursework
Exam Board: OCR
Exam Results 2022: 38% D* - D

Why choose this course?
You will enjoy this course if you...
Have an interest in IT and mobile technology and its applications.
Have an interest in how our data is used and how securely your information is held you will learn this on this course.
Have an interest in studying IT at Level 3, this course will prepare you for that progression.
IT Level aims to develop your understanding and skills of the essentials of IT and cybersecurity. You will gain an insight into the IT sector as you investigate the pace of technological change, IT infrastructure on a global scale, and the importance of legal and security considerations.
Skills you'll gain
Knowledge on communication in the IT industry.
IT Solutions that businesses use in the modern world and how they are made up of many different component parts and are linked together to form a network, devices and wearable technologies.
You will also study Mobile Communications Technologies and you'll investigate both current and emerging Mobile Technologies and how Mobile Communications are set up and can be kept secure.
After Long Road
This course provides the basis for progression to the IT Level 3 Applied course. By the end of this course you will have a basic foundation in the uses and applications of IT in modern society
I enjoyed the Level 2 IT course which gave me a grounding in the uses of IT as a means of communication in every day and business life and made me choose to do IT at Level 3.