Film Studies GCSE
Course Overview
Film is an important part of many people's lives. GCSE Film Studies is designed to draw on your enthusiasm for film and introduce you to a wide variety of cinematic experiences through films which have been important in the development of film and film technology. On this course you will experience a powerful medium which inspires a range of responses from the emotional to the reflective as you are drawn into characters, their narratives and the issues films raise.
---
The Film Studies GCSE consists of three components:
Key Developments in US Film: This component assesses knowledge and understanding of three US films chosen from a range of options. You will study one pair of US mainstream films and one US independent film produced between 1930 – 1960 and 1961 – 1990; using these films to explore key developments in film and film technology.

Global Film: Narrative, Representation and Film Style: This component assesses knowledge and understanding of three global films produced outside the US chosen from a range of options including one global English language film, one global non-English language film and one contemporary UK film.

Production: This component assesses the ability to apply knowledge and understanding of film to a production and its accompanying evaluative analysis. You will produce an evaluative analysis of the production in relation to comparable, professionally-produced films or screenplays.
Module Titles
US film comparative study
Key developments in film and film technology
US independent film
Global English language film
Global non-English language film
Contemporary UK film.
Production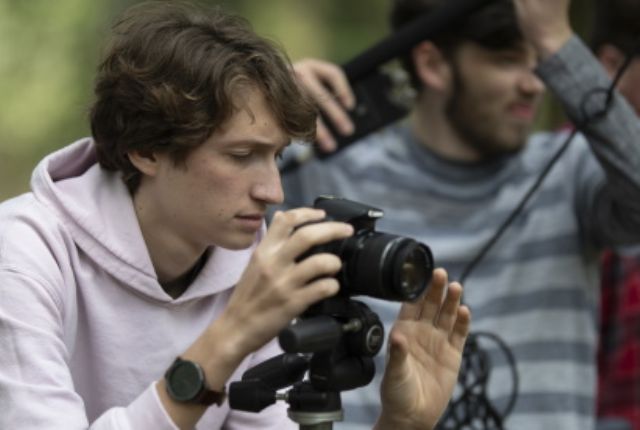 Key Info
Minimum Entry Requirements
Three GCSEs at Grade 4 including:

Grade 3 in GCSE English Language
Grade 3 in GCSE Maths
Assessment
70% Exam
30% Coursework
Exam Board: WJEC

Why choose this course?
The course suits those with an interest in and enjoyment of film and a degree of creativity in order to explore the creative possibilities of film and film products. You'll develop the ability to be critical and investigative in your approach to film and an analytical approach that should seek to discover patterns of similarity and difference, ways in which films represent people, ways in which film technologies shape film productions across a range of films.
Students are encouraged to explore a range of cinematic texts through screenings in house and also in central Cambridge, with trips to the Picture house. The practical side of Film fits incredibly well with our Projects and Enrichment areas of the school. Students are encouraged to develop their own practical skills both in the Component 3 element of the course and outside of the classroom in their spare time. Students have entered in some exciting film making competitions and have produced some outstanding work.
Skills you'll gain
The ways in which meanings and responses are generated through film
A contrasting, culturally diverse range of films from different national contexts
Film as an aesthetic medium
How films reflect the social, cultural and political contexts in which they are made
The relationship between film and film technology over time
Practical filmmaking and screenwriting skills
After Long Road
An introduction to Film Studies at this level opens up options both academic and vocational. Academically it is an ideal grounding for both A Level Film Studies and other Media based courses. Vocationally students will find out about many areas of employment within this nationally important area of the economy. It could be the 'jumping off point' for any of the thousands of technical careers in this area or the inspiration to start building a student's own portfolio and film making career.
Studying film is great, it's fun exploring new movies and learning how cinema works - I now want to study Film A-Level next year.