Art & Design Level 2 Diploma
Course Overview
This exciting one-year Art course is a great opportunity to explore and expand your Art and Design skills. The focus of learning will be on developing the skills that will enable you to confidently carry out contemporary practice and to work professionally and safely as a creative person. You will work on structured project-based design briefs in Fine Art, Fashion and Textiles, Photography, Illustration, Graphics and Surface Pattern.
---
You will be given the opportunity to take part in our popular research trips and use photography techniques like 'Shoot from the Hip', to gather reference materials for inspiration and design ideas. Other trips available to you will include visits to London and Cambridge-based galleries. You will be given access to fully equipped spacious studios which include a Mac suite and a photographic darkroom.
You will participate in regular tutorials designed to support you through the course and equip you with the skills needed to progress. Tutorial themes will include Portfolio Preparation and writing Personal Statements.
The course can lead to employment within the design field or entry onto our Level 3 Art and Design courses. Working as part of a cohesive group, receiving tutorial support and study skills assistance from our specialist staff, you will build the foundations to enable you to be successful on a Level 3 study programme.
Module Titles
Exploring Graphic design and Illustration
Exploring Fine Art
Exploring Photography
Exploring Fashion and Textiles
Developing ideas in response to an Art and Design brief
Exploring the work of artists and designers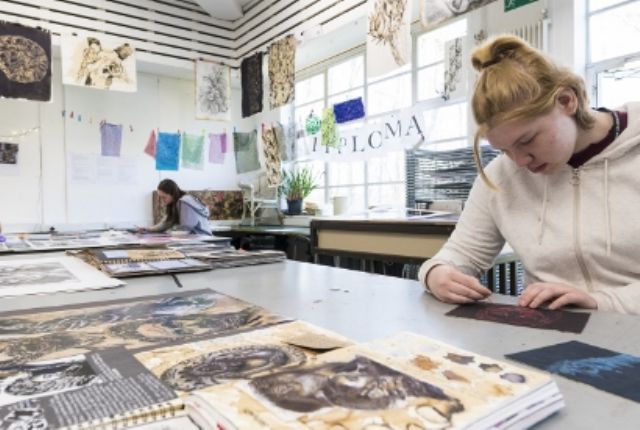 Key Info
Minimum Entry Requirements
Three GCSEs at Grade 4
Grade 3 in GCSE English and GCSE Maths
Assessment
100% Coursework
Exam Board: OCR
Exam Results 2022: 60% D* - D
Why choose this course?
On the Level 2 Art Diploma course you will participate in an exciting and varied range of trips. These will include visits to local museums and galleries as well as those further afield. These have included visits to the V&A, The National Portrait Gallery, Borough Market and Chinatown in London. We work alongside the Raptor Foundation where students produce photographic and drawn outcomes.
Students work alongside Level 3 students observing their portfolio presentations. This supports students', understanding and knowledge in their opportunities for progression.
Subject Plus sessions take place on a Tuesday afternoon giving students the opportunity for extra time outside lessons, spent working in the specialist studio completing additional work or current coursework.
Skills you'll gain
You will gain a range of skills from this exciting Art Diploma course including observation drawing skills, printmaking, traditional and digital photography, Graphic Design and illustration skills.
The practical work is supported by research into the work of other artists and designers supporting students' skills in writing, referencing and analysis skills.
Students gain confidence in talking about their own work and in their presentation of both final outcomes and their sketchbooks.
After Long Road
After successful completion of the Level 2 Art diploma course, the majority of students progress directly onto the Level 3 Extended Diploma in Art course. This is a highly successful progression route as students have explored skills and specialisms which are also incorporated in the Level 3 Diploma course structure.
Students' are frequently highly successful due to the solid knowledge gained in the one-year Level 2 course. Former level 2 students who then progressed to level 3 have gained scholarships and bursaries for their placement at University.
In Level 2 Art and Design I explored a wide range of art techniques, including; printmaking, observational drawing, textiles, traditional photography and digital work. Over the one year course I produced a large amount of work that I will be able to use at any interviews in the future for art school. I have now successfully progressed on to do the Level 3 Extended Diploma in Art and Design at Long Road