Art & Design Level 2 Diploma
Course Overview
This is an exciting course for students who have, or have not, completed a GCSE in Art. It is 100% coursework with 6 units delivered across the one-year programme. Students explore a range of specialisms including digital, photography, printmaking, fashion and textiles, graphic design and illustration.
---
The lessons are delivered in specialist art studios including a Mac suite and traditional darkroom. Lessons are engaging, fun and focus on creative work as well as researching the work of other relevant artists and designers. You will produce sketchbooks where you will document all your practical work and your research.
The Level 2 Art Diploma course is supported with a range of local trips to museums and galleries in Cambridge such as the Archaeology and Anthropology Museum, Botanical Gardens and the Fitzwilliam museum. Students also complete a drawing workshop working with The Raptor Foundation who visit us with a selection of different bird species for students to photograph and draw. Students gain valuable support and information for their progression options from their tutors.
This course is ideal for students who may wish to pursue a creative progression in areas such as art, design, fashion, graphics, and photography.

Module Titles
Exploring Graphic design and Illustration
Exploring Fine Art
Exploring Photography
Exploring Fashion and Textiles
Developing ideas in response to an Art and Design brief
Exploring the work of artists and designers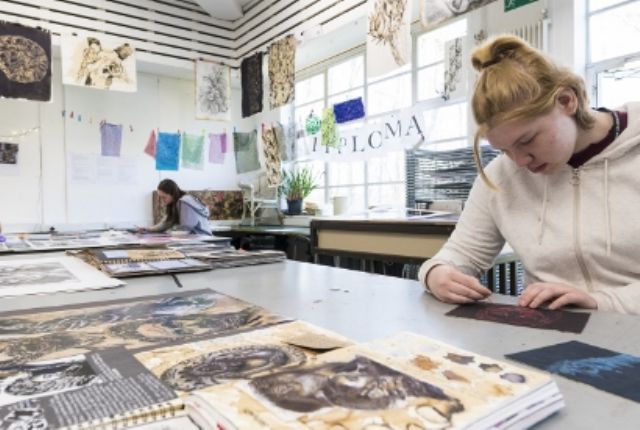 Key Info
Minimum Entry Requirements
Three GCSEs at Grade 4 including:

Grade 3 in GCSE English Language
Grade 3 in GCSE Maths
Assessment
100% Coursework
Exam Board: OCR
Why choose this course?
You will excel in this course if you enjoy all things creative, including photography, mixed media, print, fashion and textiles. If you relish learning new techniques and exploring new combinations of specialisms you will be kept super busy in a supportive and fun small class environment.
On the Level 2 Art Diploma course you will participate in an exciting and varied range of trips. This will include visits to local museums and galleries as well as those further afield. These have included visits to the V and A, The National Portrait Gallery, Borough Market and Chinatown in London. We work alongside the Raptor Foundation were students produce photographic and drawn outcomes.
Students work alongside Level 3 students observing their portfolio presentations. This supports students understanding and knowledge in their opportunities for progression.
Subject Plus takes place on a Tuesday afternoon with students working in the specialist studio completing additional work or current coursework. Your tutors really enjoy delivering this course and seeing how well you flourish in the creative environment.
Skills you'll gain
You will gain a range of skills from this exciting art diploma course including observation drawing skills, printmaking, traditional and digital photography, graphic design and illustration skills.
The practical work is supported by research into the work of other artists and designers supporting students' skills in writing, referencing and analysis skills.
Students gain confidence in talking about their own work and in their presentation of both final outcomes and their sketchbooks.
After Long Road
After successful completion of the Level 2 Art diploma course, the majority of students progress directly onto the Level 3 Extended Diploma in Art course. This is a highly successful progression route as students have explored skills and specialisms which are also incorporated in the Level 3 diploma course structure.
Students are frequently highly successful due to the solid knowledge gained in the one-year Level 2 course. Former level 2 students who then progressed to level 3 have gained scholarships and bursaries for their placement at university.
In Level 2 Art and Design I explored a wide range of art techniques, including; printmaking, observational drawing, textiles, traditional photography and digital work. Over the one year course I produced a large amount of work that I will be able to use at any interviews in the future for art school. I have now successfully progressed on to do the Level 3 Extended Diploma in Art and Design at Long Road