Maths GCSE
Course Overview
A pass in GCSE Maths is essential for progression onto a wide variety of further study, training or employment. Our highly qualified, supportive and experienced specialist teachers will provide an opportunity for you to redefine your relationship with mathematics, increase in confidence and improve on previous exam outcomes. Our exam results are consistently amongst the best in the country.
---
Our course emphasises problem-solving and mathematical communication to help prepare you for the workplace where the ability to think logically when making decisions and clearly explain reasoning are highly valued skills.
This Maths GCSE course focuses on three key assessment objectives:
Applying standard techniques - the recollection of facts, formulae and algorithms in order to accurately and efficiently perform a range of calculations.
Reasoning, interpreting and communicating mathematically—covering the choice of calculations and presentation of structured techniques.
Solving problems - the selection of appropriate mathematical techniques in order to solve problems in a variety of contexts which may be unfamiliar or novel.
Students who have not yet achieved a Grade 4 in GCSE Mathematics, are required to include a Level 2 Mathematics course in their programme of study.
Module Titles
Number
Data
Algebra
Geometry and Measure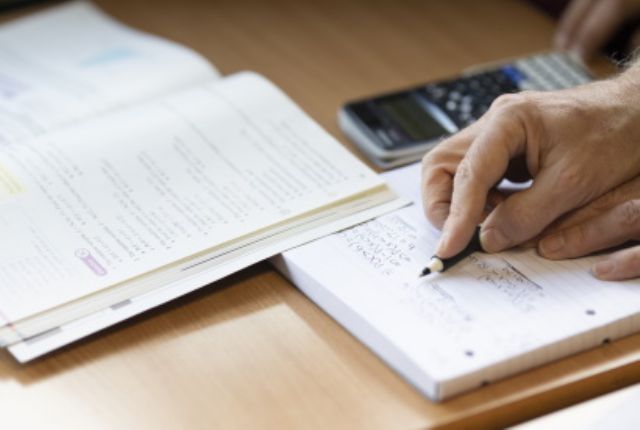 Key Info
Minimum Entry Requirements
Three GCSEs at Grade 4 including:

Grade 3 in GCSE Maths
Students must study GCSE Maths if they have not achieved a Grade 4
Assessment
100% Exam
Exam Board: Edexcel

Why choose this course?
You will enjoy this course if you...
Would like to gain confidence in your use of maths.
Want to improve on past experiences and past exam performances in maths.
All teaching is carried out by fully qualified maths teaching specialists who are experienced experts in helping under-confident students by overcoming students' maths and exam anxiety and ultimately helping students to bridge the grade 3 to grade 4+ gap in exams.
There are three 1.5 hour timetabled lessons each week, plus drop-in workshops also staffed by maths teachers, on Tuesday and Wednesday afternoons.
Our student attainment outcomes for GCSE maths resits are consistently amongst the highest in the country, with value add (VA) measures an order of magnitude higher than both Cambridgeshire and National averages.
Skills you'll gain
Improved self-efficacy when working with numbers
Strategies and techniques for problem solving where numbers are involved
Improved self-concept as a mathematically capable individual
The course is highly targeted on maximising GCSE exam success, with focus topics being determined by detailed feedback from the initial assessment and subsequent regular Key Assessments in order to optimise teaching and learning.
After Long Road
A passing grade in GCSE Maths remains a prerequisite for many next steps in our students' careers.
After securing their passing grades in Maths, our students are empowered to move on to a variety of vocational and University studies, including, in the past:
General Nursing
Midwifery
Primary School Teaching
Uniformed Services
Paramedic Training.
Software Development
Accountancy
Estate Agency
Catering
Hospitality
Students embarking on the course with below grade 3 in GCSE Maths may be successful in improving outcomes to attain grade 3 in one year and would then continue to target attainment of a grade 4 outcome in maths by the end of Year 2.
Thanks for being such great teachers over the past 2 years, especially being so patient with my maths and lack of confidence. I really appreciate everything you have done for us.