Graphic Design Level 3 Applied
Course Overview
Over the course of two years you will explore the many aspects of Graphic Design and its application in real world scenarios. Studying in our dedicated studio using the latest Adobe Creative Suite software on Apple iMacs and drawing tablets, you will develop the skills needed to progress to university, apprenticeships or employment.
This course is available to study as an Extended Certificate (60-credit course, equivalent to 1 A Level)
---
The course consists of three projects in the first year and three projects in the second year. Each project will differ in its graphic design context such as book cover design, magazine design, album art work, and branding and logo design. We are also very proud to be able to offer live projects set up with local companies which run alongside the course and which offer an excellent chance to get real-world work experience.
Assessment on the course will be continuous, with grades given at the end of each project. The course is highly creative to help you to develop your visual art and design-based skills. You will be supported by your teacher throughout the two years and encouraged to create personal responses to each project.
Year 1 Modules
Using Digital Technology In Graphic Design
Planning, Researching and Developing ideas for a Specialist Art or Design brief
Branding and Corporate Design
Year 2 Modules
Art and Design In Context
Design For Advertising
Art and Design Illustration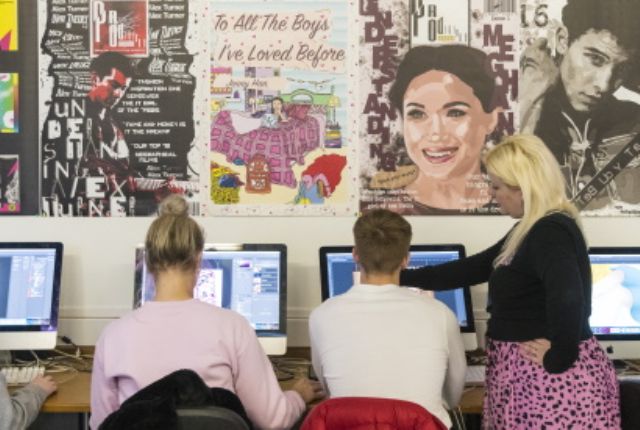 Key Info
Minimum Entry Requirements
Five GCSEs at Grade 4 including:

Grade 4 in GCSE English Language or GCSE English Literature
Grade 4 or a Merit in one of the below subjects:

GCSE Art
GCSE DT
GCSE Media
GCSE Photography

Level 2 Art
Level 2 Media
Assessment
100% Coursework
Exam Board: OCR
Exam Results 2022: 53% D* - D

Why choose this course?
You will enjoy this course if you love everything Graphic Design, Typography and Illustration; especially if you want to develop your digital skills and get to grips with the fundamentals of Graphic Design such as Composition, Type Layout and Image-based work.
We set up the course to be a practical course to get you on the right track to follow your vocation. You will be working on up-to-date project briefs within high-tech digital Mac suites, with industry-experienced staff members.
We have visiting local companies that set briefs for our students, so they can get a taste of working in the real world. Whether it is creating brochures for medical professionals, artwork for Arbury Carnival or Strawberry Fair, or working with companies that offer a work placement.
Skills you'll gain
By working in our high-tech digital Mac suites you will learn how to use the Adobe Creative Suite, including Photoshop, Illustrator and InDesign in conjunction with drawing tablets and scanning software.
There will be opportunities to work with real clients, creating presentations and working successfully to a client brief.
After Long Road
After Long Road, many students go on to study Graphic Design at University. Universities that our students have recently gone on to study at include:
Norwich University of the Arts
Anglia Ruskin University
Cambridge School of Art
Central St Martins
Camberwell
London College of Communication
Loughborough
Falmouth
Bournemouth.
Others have gone on to apprenticeships or work placement at Costello Medical and some students have stayed at Long Road to complete a Level 4 Foundation Art and Design Diploma before going on to complete their degree.
The graphic design course has given me so much confidence in myself as a designer! The interesting units, advice and support from this course has allowed me to explore my creative ability to produce designs of a professional standard. I have also been given many opportunities for my work to be displayed across highly recognised organisations. I am now excited to go on to study Graphic Design at Falmouth School of Art. I would highly recommend this course!