Graphics students visit immersive Fitz William exhibit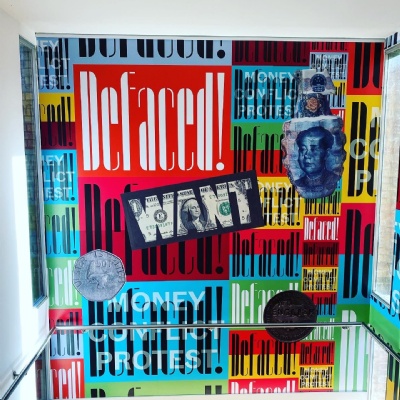 Defaced is running at the Fitzwilliam Museum until Sunday 8 January.
"I've been to a fair few Fitzwilliam Museum exhibits in my time, but none as impressive as 'Defaced! Money, Conflict, Protest' – the gallery's newest exhibition this term. By far the most immersive display I've seen at the museum, it's a definite must-see for any art lovers in Cambridge." (varsity.co.uk)
The first year Graphic Design students visited the Fitz William Museum in Cambridge on Thursday the 1st of December. The exhibition, 'Defaced' is based around Money, Conflict and Protest.
It is a wonderful immersive display of a 250-year history of protest, using currency as a canvas and a vehicle for rebellion. Passed through many hands, cash is the ideal way to circulate a message while having a go or poking fun at those in power.
With artists such as Banksy, Aida Wilde, Hilary Powell, KennardPhillips and JSG Bloggs, the students were able to see the progression of different ways communication has been used over time to send a message to the masses.