Biologists get hands-on experience at O2h Labs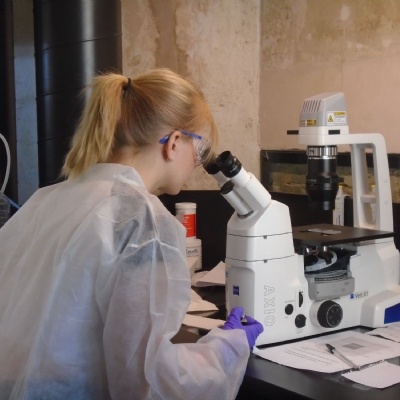 Seven Biology students had the opportunity to get hands-on with pipettes, microscopes, and imaging techniques at O2h Group's beautiful Hauxton labs.
The group opened Hauxton House co-work labs in July 2020 and will be expanding on the site in the near future. Currently, o2h Discovery has a team of 6 biologists at Hauxton who work alongside a team of 20 biologists and 300 chemists in Ahmedabad, India offering a leading global integrated drug discovery service.
Together with a group from Comberton Village College, our students met the co-founders and scientists at the facility which focuses on life sciences, technology, and green innovation. They were able to find out about the different pathways staff, which included two Long Road alumni including one of the co-founders, had taken in their scientific careers. Their practical and interactive sessions were focused on:
Pipetting Masterclass: Students were shown how to use a variety of pipettes, from manual single channel to state-of-the-art electronic multi-channel pipettes and took part in a race to see who was the fastest pipettor as they went head-to-head in the microplate speed test!

Cell Biology: Using brightfield and fluorescence microscopy students observed a variety of human cell lines and were shown how to count cells using a haemocytometer and calculate the total number of cells, before trying out this vital technique for themselves and calculating how many cells were in each of their samples.

High Content Imaging: students saw an advanced form of microscopy that combines automation and algorithmic image analysis in action. High content imaging using fluorescently tagged cells is used in drug discovery projects to develop potential therapies. Students were able to try out analysis algorithms designed to convert these pictures into quantitative readouts of the various cellular outcomes.
We are very grateful to o2h Group for enabling our students to see Biology in action and to understand how studying the subject in the classroom leads to real world applications in drug discovery. Hopefully, it will have inspired them to become the biologists of the future!