Foundation Art students get inspired in London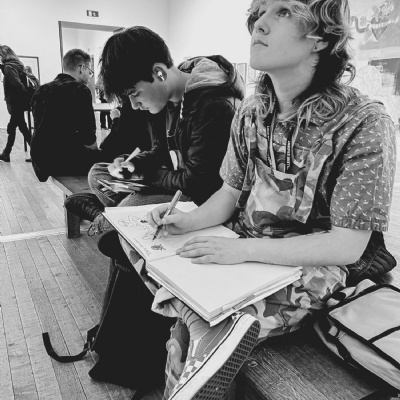 This morning our Foundation Art students headed off to London to get inspired by some world-famous galleries, with some rainbow-coloured treats included along the way!
The aim of the trip was for our students to gather research to support their first unit of work and inspire their creative thinking. First up was the Tate Modern, with each of our 70 students choosing 5 pieces of artwork they wanted to view and focus their research on. Up on the top floor at the Viewing Level the group took in the sights of London, with excellent views of the Millennium Bridge and St Paul's Cathedral.
After a quick lunch the group headed to Whitechapel Gallery. Not only did the gallery provide inspiration for our students, but Brick Lane itself is full of amazing street art. After spending some time searching for fashion and textile treasures at the Brick Lane Vintage Market, the group stopped for a quick bite that the Beigel Shop, London's oldest beige bakery famous for their rainbow beigel's.
With stomachs full of beigel's and minds full of creative inspiration, everyone headed home ready to get started on their next unit of artwork! Despite the heavy rain, everyone had a fantastic day!