How to get into Games Design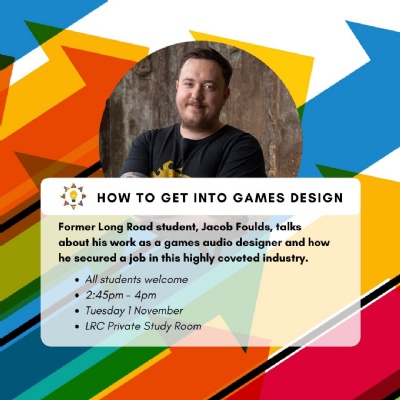 Former student Jacob will be coming back to college to give us his expert insight into how you can get into game design!
Come along to the LRC Private Study Room at 2:45pm on Tuesday 1 November to take part in this exciting event!
Former Long Road student, Jacob Foulds is an Audio Designer currently working for Rev Rooms in Brighton, UK. Working on everything from Indie to AAA video games with large development timescales. Jacob's primary job is to design Hollywood standard sound effects and create pipelines within game engines so that sound works as intended, but most importantly immerses the player.
Jacob will be talking about his journey to becoming a game audio designer, what types of jobs you can get in the video games industry and most importantly…how to get a job! The talk will outline industry standard software developers should be familiar with as well as help prospective game developers – perhaps looking at higher education, gain insight into working in the industry and paths you can take in securing a job in this highly coveted industry.
Jacob Foulds left Long Road 6th Form in 2014 and was one of the first people to take the Media Level 2 Diploma. Since Long Road, he has gone on to achieve a BA and MSc in Digital Music and Computer Games Technology, respectively. He says, "I believe that I could be of some assistance in helping students find their particular discipline in game development as it encompasses so many skills – art, animation, programming, audio/music, design, marketing, production."