Students give 5* reviews for Cambs Film Festival talk!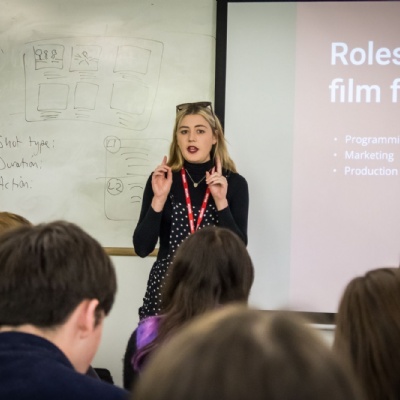 Our A Level Film Studies students were left buzzing after hearing a talk yesterday from Cambridge Film Festival organisers.
The Cambridge Film Festival is one of the country's most well-established film festivals and two of the festival team came to Long Road on Thurs 29th Sept.
Abby Pollack, one of the festival programmers, and Cristina Roures, the Operations Manager, spoke to the A Level Film students. A key focus of their talk was the accessibility of the film industry via a festival. Students were excited to hear about the volunteering and internship opportunities available to them.
A couple of the highlights was the interest in the festivals' industry day where students can learn how to get funding for short film projects and meet other film industry professionals to help them understand how to make a career in the industry. Another highlight was the Youth Lab which is a year-long initiative giving students access to workshops, screenings and networking events.
The Cambridge Film Festival runs from the 20th to the 27th of October and is based at the Arts Picturehouse, Cambridge.