Art students Cambridge Research trip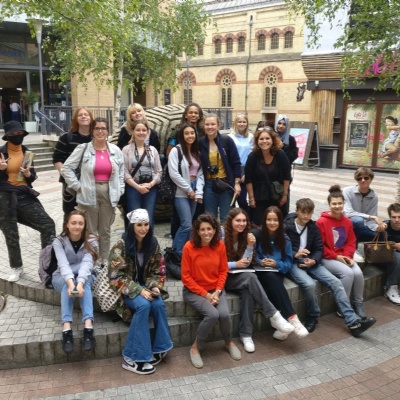 Last week our Year 1 Art and Design Level 3 Extended Diploma students took the opportunity to draw and photograph to gain inspiration for their new Year 2 project starting in Cambridge Market, Kings Parade and into Coe Fen, ending up at Little St Mary's Church.
The students were really engaged and inspired. Due to lockdown restrictions, our class had not yet had the opportunity to go on a research trip. Our first trip focused on different areas of Cambridge where we were able to take various photographs as well as observational drawings of the areas we visited. The purpose of the trip was to enable students the opportunity to draw from direct observation and take photographs to inspire their new project. It was fantastic to see the students working outside, focussing on their environment. The work produced will be a great starting point for some really exciting practical outcomes in a wide variety of mediums including paint, print, digital and textiles which will be produced back in the studio. Some of our students share their thoughts on the trip below...
I personally found this trip very helpful and inspiring, having the teachers to guide us to different places helped me focus on each different area, but equally we had a lot of freedom about what we wanted to draw and where the best place to sit down was. This trip gave me confidence for the start of my unit, and I was able to take many photographs and drawings that I am proud of' Rebecca Olender -Extended Diploma in Art
'As our first trip of our academic year, I found the day to be very enjoyable. I particularly enjoyed drawing from primary observation as this is a skill I had not practised much prior, I appreciated the range of differing environments we were taken to in order to capture imagery from varied backgrounds and sources. Overall I found the trip to be an amazing start to the project and a great starting point for my ideas and imagery'. Lloyd Hart - Extended Diploma in Art
Our trip into Cambridge with Karen, Becky and Emily was an excellent way to commence the new project. It allowed me to make a collection of at least 100 photographs to carry into unit 4, decay and regeneration. We visited the market, kings parade, Coe fenn and little St Mary's churchyard, snapping pictures and stopping for quick sketches and drawings along the way'. Rhona Nicholson - Extended Diploma in Art.