Leaders Unlocked – Impact Report 2015 – 2021: The First Six Years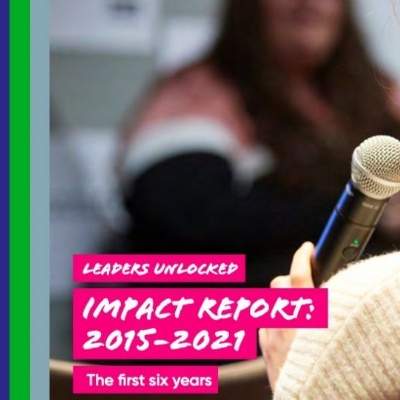 "For 6 years Leaders Unlocked has worked to embed young, underrepresented voices into the scrutiny and reform of the systems affecting them. The ultimate emphasis is always on amplifying the voices of the young people we work with."
Leaders Unlocked was first established by CEO Rose Dowling to support young people from diverse backgrounds to influence change in relation to the issues that affect their lives. Rose believed that any young person could become a leader if the right conditions were created for them to thrive.
Since 2015 Leaders Unlocked projects have provided young people with the space, support, and tools they need to lead. They are youth-led from end-to-end – allowing young people to define their own priorities, produce their own research, develop recommendations and co-produce solutions.
In 2020, Leaders Unlocked established a Youth Board – a group of motivated young leaders representing all of our work areas: criminal justice, education, health and policing. These young leaders are helping to drive our growth as an organisation – working on our strategy, business development, partnerships, media and communications. The Youth Board have co- produced and authored this Impact Report, which is a vibrant record of our collective achievement over the last 6 years.
"For 6 years Leaders Unlocked has worked to embed young, underrepresented voices into the scrutiny and reform of the systems affecting them. The ultimate emphasis is always on amplifying the voices of the young people we work with."
"I have gained stronger and greater evidence for career progression, including teamwork and interpersonal skills. I have had the chance to learn about and inform policy in the UK to improve mental health and wellbeing."
"Being a part of this has made me less hot-headed, less angry at the system, and more optimistic that things could change. Before I was more like a ticking time bomb. Being with a team of eccentric individuals has made me feel accepted and it's made me feel we can tackle it together in a more productive way."
"We're holding older people to account, especially those in higher positions. We help them understand that there are young people out there, and we do care. We're not just a figure on a graph in their boardrooms!"
"Before the project I might have witnessed injustices and decided to look on but now I am determined to use my own knowledge to help people be free from racial injustices."
For more information about Leaders Unlocked please visit our website:www.leaders-unlocked.org or contact Alev: alev@leaders-unlocked.org