#ProtectStudentChoice – Don't Scrap BTECS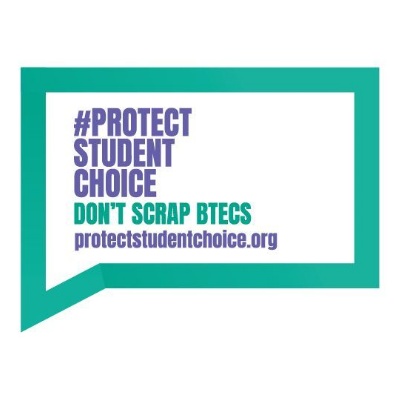 Letter to Students, Parents & Carers – September 2021
In July, the Department for Education confirmed that funding for the majority of BTEC (applied) qualifications will be removed. The government would like to create two pathways: A levels and T levels (a new set of technical qualifications) rather than the three routes we have now: BTEC (applied), A levels and T levels.
Why does this matter? It matters, because very soon, young people will have a different, narrower choice at 16. Look at what you are studying now and consider what if it wasn't available in the future for your friends and family? We know that many, many of our students who have chosen an applied route go on to university and are very successful. They also progress to some very prestigious apprenticeships too.
What the Government's plan means for lots of young people is that their choice at 16 will be A levels or very specific technical training on a T level. It is also still unclear if your GCSE grades don't enable you to enrol on these two pathways then what will you be offered?
Long Road, along with the #ProtectStudentChoice campaign (a coalition of 15 organisations that represent and support staff and students in schools, colleges and universities) is deeply concerned about this plan. In our view, it is far too simplistic, and many young people will continue to be better served studying a BTEC (applied course) rather than an A level or T level-only study programme.
Our shared priority is to #ProtectStudentChoice by ensuring that many BTECs/applied courses continue to be available. You can read our joint position statement here and our joint letter to the Secretary of State for Education here.
What can you do? Think about the students of the future and you could sign the petition. With 100,000 signatures this important issue will have to be debated in Parliament. Every single signature matters.
Find out more at: https://www.protectstudentchoice.org/ and #ProtectStudentChoice
Thank you for reading.
Best wishes,
Yolanda
(Principal)
---
Letter to the Secretary of State for Education – October 2021
Last night, 12th October 2022, two amendments were successfully voted through the House of Lords:
Amendment 29. Funding for Level 3 courses including BTECs cannot be withdrawn for 4 years after the Act is passed "to ensure that T levels are fully embedded and acceptable to students, employers and universities."
Amendment 31. Insert: "No student will be deprived of the right to take two BTECs, AGQ or a Diploma or an Extended Diploma."
Most of the Lords also signed the #ProtectStudentChoice campaign letter to the Secretary of State for Education, Nadhim Zahawi, which you can read here: Letter from MPs and peers to Secretary of State – October 2021
What can I do?
Continue to sign and share the #ProtectStudentChoice petition (at the time of writing (13/10/2021) we have over 30,000 signatures!)
You can also write a little to your MP – a template letter can be downloaded here: Template letter for MPs – #ProtectStudentChoice Campaign