Long Road Writes - Creative Writing Competition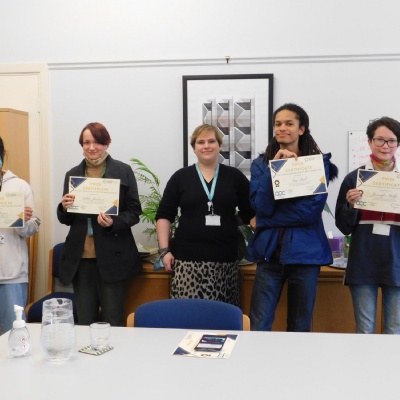 On 2nd February, 5 students received certificates and prizes to recognise their achievements in creative writing, at an award ceremony hosted by Yolanda Botham, the college principal.
hey had all entered work into the Long Road Creative Writing Project, a college wide project which aimed to support the development of students' creative writing skills. This was part of a pilot project developed by the Association of Colleges and the English and Media Centre.
Students could choose to write in any form; we received fiction, poetry, non-fiction and autobiographical writing. Some students responded to writing prompts provided, and others let their imagination run wild! The project organisers were blown away by the range and quality of the work submitted- it was extremely hard to narrow down the entries to just 5 prize winners!
The five £20 prizes were awarded to:
Best character: Tim Bull, for the short story 'Escape from the Lock'
Best writing about an issue: Jennifer Wolfe for the poem 'Dysclimate'
Best plot twist: Akaziwe Bafanah's short story, 'Psychic Daughter'
Most moving writing: Elisha Reyes' World War I inspired writing
Most informative: Eddie Jackson's article on 'Ableism in Society'
All of the prizewinning work, as well as the other entries submitted to the project can be read in our online magazine, Long Road Writes.