Sports students brave Tottenham Hotspurs Dare Skywalk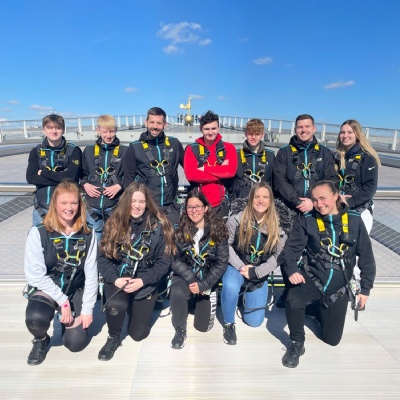 Last week our year 1 and year 2 sport students had the opportunity to visit Tottenham Hotspurs new stadium!
They were shown the major developments in sporting stadium technology, demonstrated by what is widely considered to be one of the most advanced stadiums in European football. They experienced what it is like to be a Premier League footballer in the build up to a game and after the game, from the changing rooms right up to the press rooms. The students also had the opportunity to see what facilities an NFL team prepare in, with Tottenham's NFL contract, their stadium has also been designed to cater and facilitate for the NFL, meaning we were able to get an insight into the vast locker rooms used by NFL players and coaches.
To top the day off, the students had the opportunity to scale the stadium and walk across the roof of stadium with Tottenham Hotspurs Dare Skywalk experience also included in the visit. They braved 47m above the ground to walk around the famous Tottenham Hotspur Cockerill which hangs over the pitch, giving the students a view they can only get from the skywalk experience.