Singapore 2024 - Turing Scheme Trip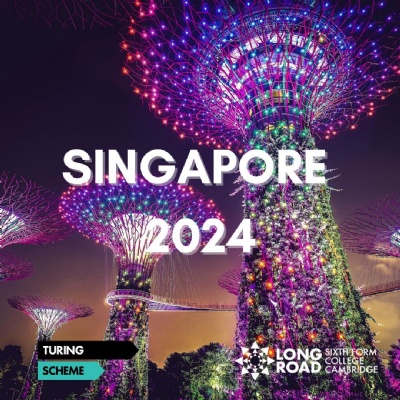 Last summer we were able to run an amazing trip to Denmark for students, focussing on Green Jobs, sustainability and international co-operation. It was funded by the Government and free to students via the Turing Scheme (which replaced the European Erasmus scheme). It really was a once in a lifetime opportunity. Well, we are doing it again, but this time we are going big – Singapore! We will be selecting highly motivated and committed students to take part. See below for details of how to apply.
We are offering an incredible opportunity for 38 Year 1 students to visit Singapore as part of the Turing scheme project for 15 days; the visit will run from the 21st March to 4th April 2024. The visit is funded by the Turing scheme , below are the main aims of the Turing scheme:
"The Turing Scheme is the UK government's programme to provide funding for international opportunities in education and training across the world. It supports Global Britain by providing an opportunity for UK organisations from the higher education, further education, vocational education and training and schools sectors to offer their students, learners and pupils life-changing experiences to study or work abroad".
We will be based in Singapore for 13 nights. We will fly out and back from a London airport. We will use a coach and public transport to travel for some of the day trips. We will need a refundable (refunded on completion of the project) payment of £300 from each student, this deposit will be required once a Turing scheme project place has been offered. Students in receipt of FCM or mainstream bursary payments will not have to pay a refundable deposit. We will also send out details about VISA applications for students who may need them to enter Singapore. All accommodation, meals and mandatory day trips/activities are covered by the Turing scheme grant.
The visit to Singapore is one part of the Turing scheme project and, we will require commitment, across all phases of the Turing scheme project. This will involve pre visit preparation work across 5 after college sessions and each student will study and complete the carbon literacy qualification (8 hours study). We will also provide support for students who may use the visit as an EPQ opportunity. During the visit, students will keep a journal of their experiences and how the trip and activities have helped, gain a better understanding of the green jobs sector, international trade and progression opportunities post Long Road. The project will enhance an UCAS or job/apprenticeship application. In Year 2 there will be post visit follow up to track and measure the impact of the visit.
To apply for this fantastic opportunity, please complete the application form by using this link , guidance for completion of the form is embedded in the form. The student selection process will be managed by senior staff in college. We will look at the quality of the application and examine other factors such as Long Road attainment data, attendance data, and we may talk to your teachers. The deadline for applying is Wednesday 29th of November 2.40pm.
Please email Chris Childs with any questions you have about the visit: cchilds@longroad.ac.uk
Check out the photos from our Denmark Trip in summer 2023!