Youth Social Action Apprentice Launched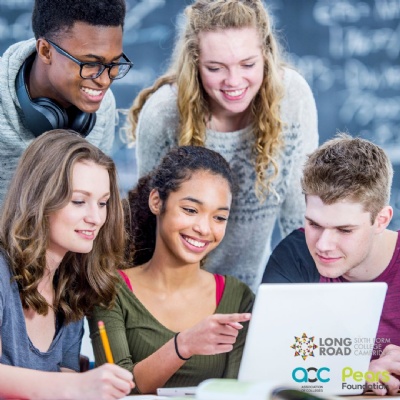 We are delighted to welcome our new Youth Social Action (YSA) Apprentice, Charlotte, to the Long Road community this week! Charlotte will be working to empower students at Long Road, Cambridge Regional College and Luton Sixth Form College to take meaningful social action and address issues they face in their local communities.
YSA sees students participate in activities which impact their college and the local community whilst also developing their skills for the future. This is the second phase of this initiative: the first apprentices completed their Level 3 Youth Social Worker qualification in 2022. Throughout their course, they collectively engaged 10,870 students in youth social action and built relationships with 424 local organisations and 118 national partners. This meant that around 18,496 members of the community benefited from their work.
The new apprentices will follow in their footsteps and will empower students to take action and address local issues and create opportunities to undertake meaningful work experience around social action.
We are so proud to be 1 of the 25 colleges, alongside our partners CRC and Luton SFC, to have secured funding from the Pears Foundation in order to take part in the second phase of the programme. Charlotte will now start carrying out activities (such as fundraising, event, campaigning and volunteering) which will be student-led and in collaboration with community organisations and charities to ensure wide participation, impact and sustainability. They will also look to engage with local employers for support.
Charlotte will also be working to embed youth social action within our colleges, engage the local community and contribute towards its improvement, develop lasting partnerships with local organisations, and raise the positive profile of colleges through social action in the local community. Part of this work will include supporting Citizens UK to launch their new chapter, Cambridge Citizens, which Long Road is proud to be a founding member of!
We are thrilled to be working with the Association of Colleges (AoC), Pears Foundation, Luton SFC and CRC and can't wait to get started! For more information on the Youth Social Action programme please click here to visit the AoC website.
Charlotte Smith
---
Youth Social Action Apprentice
csmith@longroad.ac.uk
---
Hi, I'm Charlotte, and I'm really excited about starting my new role as YSA apprentice!
I was a student at Long Road from 2020 - 2022 and I am looking forward to helping the current students evolve our college community, as well as working with the students at CRC and Luton to really stretch my wings and help make a positive difference to colleges and communities across our region.
The first thing I will be doing is a listening campaign, students, if you have the chance - please complete this short survey so I can find out what issues are important to you! I look forward to meeting you all and hearing your ideas about how you would like to make our communities a better place for everyone!