Ski Trip coming soon... February 2024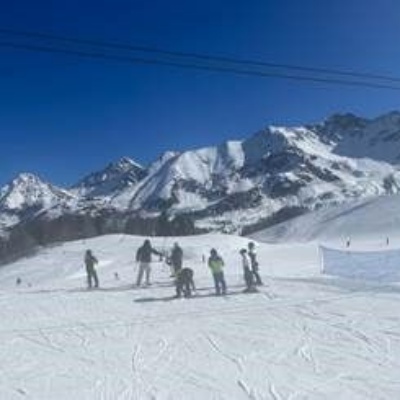 ❄️ Do you fancy an adventure filled February half-term? Sign up for our Ski Trip 2024 ❄️
All ability skiers & non-skiers are welcome and anyone from the college can sign up!
Ski Trip organisers Louise & Ashley give you more information below...
Update Friday 29 September:
The ski trip to Italy 2024 is now full on Parent Pay. As we have a lot of interest in the trip, we have increased the total number slightly and will draw a ballot to fill these additional spaces.
To be added to the waiting list and pay the deposit, please email Ashley Clifton (aclifton@longroad.ac.uk) with the students' full name. After next week, we shall draw a ballot. Those who get selected for the trip will need to have the deposit paid. If you have already paid the deposit, and you do not get selected, the deposit will be refunded.
It is the aim of Long Road to not only encourage young people in their academic studies, but also to develop their social skills and physical fitness, broaden their horizons and offer them opportunities to experience environments outside their daily surroundings. We are therefore organising a college ski trip to the Aosta Valley in Italy!
Please find details as follows:
Date: Saturday 17th February 2024 to Saturday 24th February 2024
Resort: Pila
Company: Interski - click here for resort details
Cost: £1359 (additional £35 supplement for snowboarders)

The price includes:
Return travel from school by executive coach with toilet/wash-room and lap seat belts.
Continental breakfast on outbound journey and hot breakfast on return journey.
Half-board hotel accommodation, mainly in 2, 3 or 4 bedded rooms, all with private facilities – including a full evening meal on the day of departure from the resort.
Hot snack lunch on arrival and on each ski day at a mountain restaurant.
Ski instruction – five hours per day with an hour's lunch supervision with qualified snowsport school instructors.
5 days hire of top quality carving skis and boots.
Full après-ski programme - entrance fees, ski tests, badges and certificates included.
Cross channel ferry crossing and all road tolls.
Full area ski lift pass.
Comprehensive winter sports insurance.
Discounted dry ski slope lesson (available at a range of slopes around the country).
Total financial protection (ABTA member V6114) and ATOL holder.

Additional costs to consider:
Drinks except with breakfast and with lunch voucher (water is placed on tables for the evening meal).
Pocket money.
Specialist clothing and ski wear - Interski's sister company, Snowco, can provide high quality rental ski wear for as little as £35 for the week.

Payment Schedule:
Deposit (non-refundable) £150 payable by Monday 2nd October 2023
1st Instalment £609 payable by Friday 3rd November 2023
Final instalment £600 payable by Wednesday 6th December 2023 (+£35 snowboarding if applicable)
All payments must be made via ParentPay and places are allocated on a first come, first served basis or if the trip is oversubscribed a ballot will take place (40 places available). Please complete all necessary consent information when paying for the trip via ParentPay.

Check out the photos from our 2023 Ski Trip!
---
Although the visit is not essential, it will be of benefit to the students. However, students also need to consider the demands of their other subjects before deciding to go on the visit, particularly when they are close to an examination or other important assessment.
You should be aware that students are expected to abide by the college's code of conduct, the College residential visit code of conduct and any instructions related to risk assessment. In the unlikely event that your son/daughter breaches any of these, you may be asked to take responsibility for his/her return. Parents should note that the staff supervising are acting in loco parentis, and they should expect the standard of care given by a reasonably prudent parent or guardian. A risk assessment which has been checked by one of the College Health and Safety staff, has taken place for the activities involved in the visit and students must obey all instructions given by staff. Occasionally, there may be some unstructured time on the visit appropriate to the age group, if possible, students should always remain in groups: they will have clear contact details for the supervising member of staff at all times.
In the unlikely event that your son/daughter should withdraw from the trip, Long Road Sixth Form College will make every effort to resell the place on the trip and recover as much costs as possible. However, please note that there may still be costs incurred by the College and it might not be possible to make a full refund. Some items are paid for in advance and there is no refund available. If the withdrawal is due to medical reasons, please submit a letter with confirmation from the Doctor/ Hospital detailing the reason for the withdrawal. We will then make a claim on your behalf through the college insurers. Should the withdrawal from the trip be due to your son/daughter withdrawing from the college or against the college's behavioural code of conduct, then no refund will be made. Any refund will be made via ParentPay
The college will not be responsible for any personal loss or injury unless proved to be negligent.
A meeting for parents/guardians will be held at the college (details to follow). It would be most helpful if you could attend. If you require more information, please do not hesitate to contact us at college.
Yours sincerely,
Louise Spinale & Ashley Clifton (Ski Trip Organisers)