Become a Student Governor!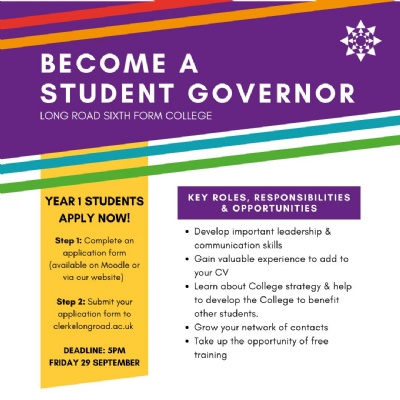 Do you want to have a say in how your college is run? Are you interested in representing the student body?

An exciting opportunity is now available for one Year 1 student to join the College Board as a Governor!
About the Corporation
The Corporation at Long Road Sixth Form College consists of 20 individuals, including the Principal, 3 staff Governors, 2 student Governors and one parent Governor. Governors provide strategic leadership to the college and set the mission and the framework of policies which the college operates within.
Why become a Student Governor?
Develop important leadership and communication skills
Gain valuable experience to add to your CV, take real steps to achieve your academic, career, and/or personal goals
Learn about college strategy and help to develop the college to benefit learners.
Grow your network of contacts
Take up the opportunity of free training
Experience the democratic processes of election!
How long will I be in office for?
2 years. Your term of office runs until July 2025.
Who can apply?
We need a Student Governor who is currently a Year 1 student. We are keen to hear from you if you feel you can make a difference to the College and our students.
How do I apply?
Complete the application form below. Your application is to be submitted by 5pm on Friday 29 September 2023 to
clerk@longroad.ac.uk. Your application should say something about you, and why you think you will be a good student Governor. This statement will be used if there needs to be an election.
For more information on the role, please talk to Year 2 Student Governor Lily-Kate McCormack or Anne-Marie Diaper, Clerk to the Corporation, based in Room C30.