IT students take part in Dragon's Den showdown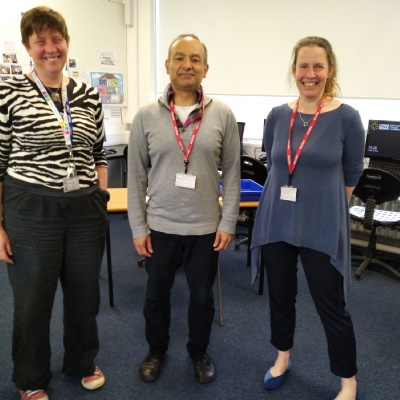 Picture this: a group of nine IT experts from the prestigious Cambridge-based organisations gathered for a 'Dragon's Den' style activity, but with a twist: the participants were year 2, Level 3 Cambridge Technical IT students.
Each student was paired with a very friendly - but curious - "Dragon" and had five minutes to pitch their idea on how to make the college more sustainable using the Internet of Everything.
These young minds presented a range of sustainability-based pitches that could transform the college into an eco-friendly utopia, everything from SMART rubbish bins to energy-creating window blinds that could power the entire campus and from customised food waste MIS to parallel reality view screens. These tech-savvy teens did their homework and came armed with facts and figures to fend off any question the Dragons threw at them.
And there were props! Some students went all out, showcasing their ideas like a handmade prototype bike lock and a 3D printed energy tile. Get enough of the real thing, and you could generate enough energy to power a small city.
In the end, each student received feedback, both oral and written, to help them improve their pitches and achieve the highest grades for their efforts.
This was the third year this event took place, and it gets better each time and attracts ever more Dragons.
So, there you have it, the tale of the Dragon's Den showdown in Cambridge. A group of IT experts, some innovative students, and a whole lot of sustainable ideas.
Dragons included:
Simon Plant
Worldwide Product Manager,
HP Enterprise Security Software,
HP UK Development Limited

---
Angela Reynolds
Data Manager,
University of Cambridge,
Wellcome-MRC Institute of Metabolic Science-Metabolic Research Laboratories
---
Mark Doggett
Senior Manager at Accenture Strategy and Consulting specialising in Technical Architecture
Adrian Issot
Distinguished Technologist SW Engineering (Systems),
HP Enterprise Security Software,
HP UK Development Limited
---
Dinah Levy
IT Project Manager and Mental Health First Aider NSL, part of Marston Holdings, designers of market leading integrated technology-enabled solutions.
---
Cassio Rossi
Quantum Computing expert at Roku UK Ltd2
Stephen Blackmore
Fuel Management Services, Driver Safety Management & Business Development.
Turners (Soham) Ltd

---
Samin Ishtiaq
Quantum computing expert at Riverlane; builders of operating systems for Quantum computing.

---
Zoe Thorn
teacher of Chemistry, Science and Maths. Long Road Sixth Form College