Make Music Day 2023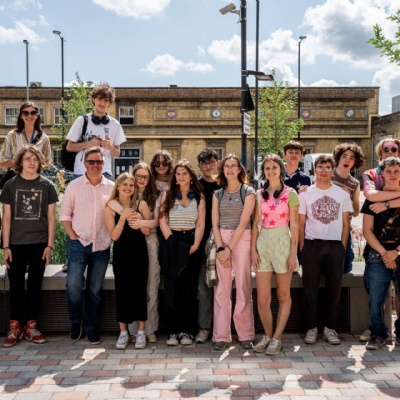 On Wednesday 21st June, our talented Year 1 Music students were invited to open the line-up for Make Music Day organised by Love Cambridge and Cambridge BID. The stage was in the centre of Station Square, located in the heart of CB1, and the day brought together a diverse line-up of talented musicians to create an unforgettable experience for everyone involved.
Long Road's Music department provided an incredible mix of musical genres to delight the audience of locals, tourists, students, musicians, and passers-by. The performances were lively and entertaining and the whole event felt vibrant, perfectly matching the glorious sunshine! Four of Long Road's bands took to the stage playing music ranging from the beautifully haunting "Wake Up Alone" by Amy Winehouse to the powerful LGBTQ+ anthem "Take Me to Church" by Hozier. The set finished with a brilliant original song which was as musically engaging as any of the covers heard earlier in the morning.
Excerpts from Long Road's set were broadcast live from the square on Cambridge 105 Radio Station, you can listen on the Neil Whiteside's show webpage - Long Road feature from 6minutes to 16 minutes. You can also find more information on the Love Cambridge website and by looking on social media.
Huge congratulations to all of the students who performed – You can catch them at the Long Road Summer Showcase on Wednesday 12th July at 7pm. For further information see Lizi Rowlands in the Performing Arts office or email erowlands@longroad.ac.uk.