Graphic Design students design posters for Arbury Carnival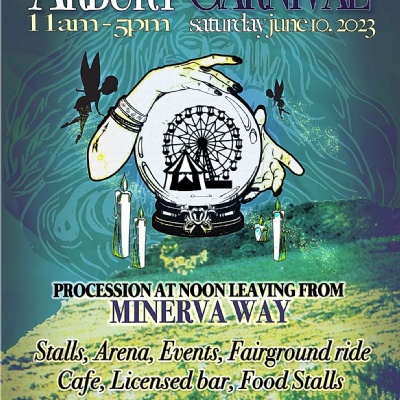 Our Graphic Design students have once again done an amazing job designing posters for Arbury Carnival. Congratulations to student Zoe Olano who was the winner of this competition, this poster will be professionally printed and used in publicity for the event!
Earlier this year our Graphic Design students were approached by the Arbury Carnival Committee to offer them the opportunity to design a poster to advertise this year's carnival. Arbury Carnival takes place every year to celebrate the culture and community in Arbury, North Cambridge. Each year up to 5,000 visitors visit the festival to enjoy the entertainment and eat and drink at the stalls.
The brief: This year the Arbury Carnival invites you to create a poster for our of Witches, Wizards and Mythical Creatures themed event. The Committee will then look at all the posters and decide on the most eye-catching design to be professionally printed and used in publicity for the Carnival.
We are proud to announce today that student Zoe Olano was selected by the committee as the winner! This design will now be posted out as flyers and posters to thousands of homes in North Cambridge. Head to the bottom of this page to see all the finalist entries!
This is a very exciting opportunity for our students who want a career in Graphic Design as it will add to their portfolios and help with University/Apprenticeship/Job applications! Many thanks once again to the Arbury Carnival Committee for running this competition with our students, we look forward to working with you again next year!