Winners of 'Best Game' at FXP Festival 2023!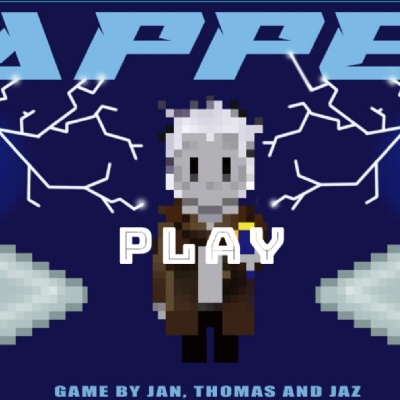 Congratulations to students Jan Michalak, Jaz Soltani and Thomas Miege on being announced the WINNERS of the Best Game category of this year's FXP Festival 2023!
Back in September 2022, when IT teacher Aidan Weston first started our Games Development Club we never would have dreamed that less than 1 year later our students would have made an achievement such as they have this week; being announced the winners of Best Game in the FXP Festival 2023!
The gaming industry is increasingly rapidly, and as such game development is an area focused on in both our Computing Level 3 and Media Level 3 courses. With the ever-growing It comes as no surprise that 25% of Level 3 Media students choose to study this unit, with more choosing to do similar topics such as 3D and 2D animation. Many of our Computing students report the game development unit as their favourite topic of study, enjoying the activities of designing, creating and testing video games as part of their assessments.
Despite the popularity of the game development units, it is a small part of both courses, limiting time students can work on their projects or learn about games development. With this in mind, Aidan set up our Game Development Club with the aim of assisting students in the design and creation of computer games, developing their skills and confidence in using various tools and software. The club serves to provide all college students with an opportunity to participate in games development; this included inspiring students interested in programming, digital media, or music to create a game project individually or in groups, bringing together students across the college with a shared passion for gaming and game development.
I am really impressed with how you've been able to balance the theme that's been given and then balance that in with your gameplay, so really well done. It was very unique what I saw with this gameplay, it was probably the only game of this kind that had been submitted this year and even before I touched the arrow keys to play I looked at this and I thought "this has got real potential". It's one of the ideas that's kind of stuck with me for the last 24 hours thinking "this has really got legs" and i certianly thik with a little bit more time this one could be an incredibly strong, but also educational project, that could be published

Michael killick, fxp festival judge, shares his thoughts on 'zapped'
In the past, Long Road have run gaming and game development clubs, being named runners-up in a local charity competition back in 2018. After a few years of non-participation, students felt inspired by visits from both Long Road alumni Jacob Foulds of RevRooms, who spoke to students about his career in gaming and Games audio, and Laurence Oldham, Head of Design at Frontier's games portfolio, who gave a talk on careers in the games' industry. Feeling reinvigorated, our new Games Development Club decided to enter the FXP Festival 2023.
The FXP Festival is an annual game design and development competition. The team, made up of Jan, Thomas and Jaz, (named Team JTJ) were given a theme which they had to design a game around, all within just 14 weeks! After a considerable amount of hardwork and determination Team JTJ entered their game "Zapped" - which this week was announced as the WINNER of the Best Game category! We are so proud of Team JTJ and this Hugh accomplishment! We can't wait to see where you go next!!
Partaking in this competition has strengthened my already strong aspirations towards becoming a game developer. Working as a team to deliver a high-quality interactive product has encouraged me to create more games, as this competition has made it clear that with a synergistic effort, an idea can be made into reality; while providing an enjoyable experience for others to delve into

Jan Michalak, part of team jtj