Long Road Clothes Swap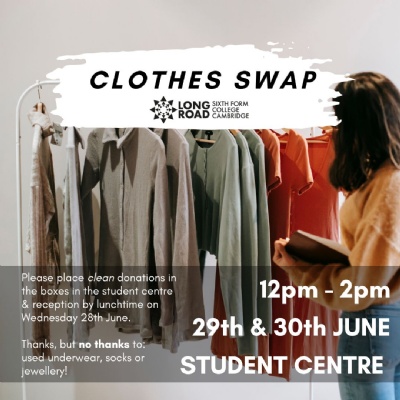 Come and build your new summer wardrobe, FOR FREE, at the Long Road Clothes Swap on Thursday 29 & Friday 30 June, 12pm - 2pm in the Student Centre.
Not only will this be a fun and money-saving activity, but also every 1 kg of clothes swapped stops 27 kg of carbon dioxide being produced by the energy-intensive clothes industry! More information can be found here: https://cambridgecarbonfootprint.org/clothes-swap/
No money will change hands – if you would like to make a donation to Cambridge Carbon Footprint, please do so separately.
You do not need to bring an item to take an item – anyone can take anything!
Please drop off your items in the boxes in the staff room, student centre or reception by lunchtime on Wednesday 28th June, so they can be sorted before the swap.
Yes please: tops, jumpers, hoodies, coats, dresses, jeans, trousers, shorts, skirts, footwear, accessories and baby clothes.
No thanks: used underwear or socks, jewellery
If you would like to be involved in the organisation of the clothes swap please contact Zoe at zthorn@longroad.ac.uk