Make Music Day!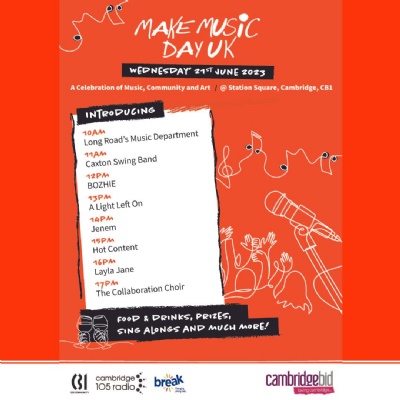 Get ready for Make Music Day 2023! Join us at Station Square, located in the heart of CB1, for a day filled with music, art, and community. On June 21st, we're bringing together a diverse line-up of talented musicians to create an unforgettable experience!
Throughout the day, we'll have an incredible mix of musical genres to delight our audience by the lively performances… you won't want to miss being part of this vibrant event.
We'll have live broadcasts from the square with the fantastic Cambridge 105 Radio Station to make everyone gets to partake in the atmosphere. Get ready to turn up the tunes, sing along with the crowd, and enjoy the festivities until dusk. We'll conclude the day with a memorable performance by The Collaboration Choir.
Our program kicks off with Youth Music from Long Road Music Department, showcasing the incredible talent of our Cambridge young musicians. As the day goes on, we'll transition to the delightful sounds of Claxton Swing Band, a beloved local favourite. During lunchtime, BOZHIE will take the stage, bringing their unique genius with the DJ decks. Experience the soothing melodies of A Light Left On, a talented folk act, before being enchanted by JENEM's sweet melodies. Prepare to be amazed as Cambridge University favourites, Hot Content, bring their brass ensemble to captivate the audience. And finally, our penultimate performer, Layla Jane, will share their melodies that have previously captivated audiences throughout the city.
Introducing…
10am – Long Road's Music Department
11am - Caxton Swing Band
12pm – BOZHIE
13pm - A Light Left On
14pm - Jenem
15pm - Hot Content
16pm - Layla Jane
17pm – The Collaboration Choir
We've got some exciting prizes up for grabs throughout the event, so keep an eye out for your chance to win. Plus, BREAK Charity will be supplying delicious cakes and refreshing drinks to keep you going all day long. It's the perfect opportunity for the Cambridge community to come together, enjoy fantastic performances, and support a worthy cause. So, make sure to save the date, bring your loved ones, and join us at Station Square for a day of music, art, and community.