Virtual exchange with Troy High School, Michigan!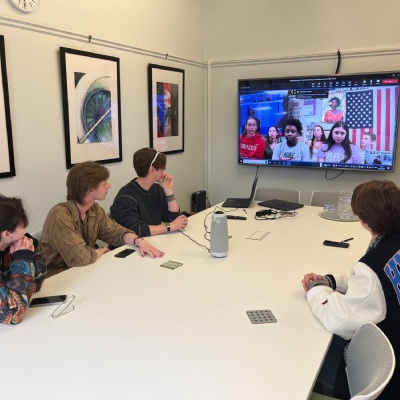 Last week a group of our A Level Politics students took part in a virtual exchange with students all the way across the pond at Troy High School in Michigan USA! Gavin, Politics Course Team Leader, tells us all about this exciting afternoon!
On Tuesday 16th May, 5 A Level Government and Politics students took part in the first online exchange with students from Troy High School in Michigan. As studying the US political system is a vital part of the A Level at Long Road, it is vital that our students have more than just a surface understanding of American culture and, thanks to US government teacher Ryan Werenka and his students over in Troy we were able to have this valuable experience. .
The students; Oliver Young, Jazz Harvey, Elliott Day, Calum Noble and Kamil Wilk volunteered to answer questions on the UK government and culture and asked a number of their own regarding US politics with the focus on cultural and political differences between our countries. It was pleasing that It did not take long for both sides to engage with the other, discussing issues such as how their studies (and breaks) differ and how Troy compares to Cambridge in regards to transport, where, notably according to one of the US students - 'not having a car is like not having legs'.
Political discussions included the US students remarking that they found the traditions of Parliament and the ways in which leaders are selected in the UK as the greatest culture shocks whilst studying our system. Our students asked the Troy cohort for their views on the First Amendment right of freedom of speech, the pledge of allegiance and for their opinions on the availability of firearms to the population. This resulted in our being introduced to the classroom 'survival bucket' containing items to use in the event of an active shooter. An interesting question also emerged regarding the extent to which the UK electoral system takes individual issues such as the environment into account. In contrast, the role of celebrities in the US electoral system was considered with Taylor Swift given as an example in relation to aiding people to register to vote. Long Road student Elliott Day remarked that he found the meeting really interesting especially 'how similar their views were to the UK group on the majority of social issues' whilst Oliver Young stated that the experience was 'truly unique' and that 'communication is key in helping to break down stereotypes you may have of a place you have never been able to connect to'
This is hopefully the first step in working with our new friends over in Michigan and I am very grateful to both Ryan and his students: Jennifer, Sally, Alexa, Abby, Drew and Patrick, who were keen to answer questions so honestly and make this such a worthwhile exchange.