Long Road student attends Coronation of King Charles III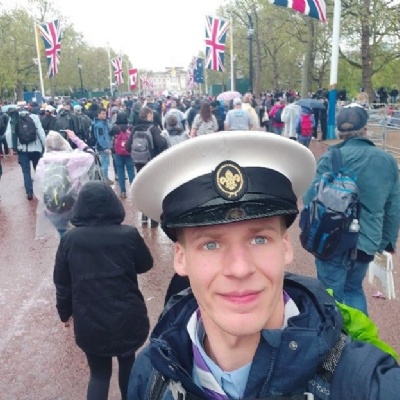 While we were all enjoying a long weekend at home with our family, or perhaps out celebrating with friends, Long Road student Joshua stepped up to an important task - he was selected as a member of the Scouts to take part in this historic event and support the many thousands of visitors who lined the streets of London in celebration of the Coronation.
Read all about Joshua's once in a lifetime weekend below...
Over the Bank Holiday weekend I attended the Kings Coronation within London as part of the UK Scouting Team. There were 450 members from across the UK and the Commonwealth who had been selected from over a 1,000 applicants to help out at the Kings Coronation. As part of this weekend we provided stewarding at many of the major screening sites such as Hyde Park, Green Park and St James' park, whilst also providing route lining services around London. Some members also supported high profile dignitaries at Westminster and a small congregation provided stewarding at the Coronation Concert.
Over the weekend we were based at the Scouts' headquarters at Gilwell Park in London, where we undertook training, safety briefings and orientation of London on Friday. We also took part in many team building activities ready for our shift work on Saturday. On Saturday morning we had an early start and travelled into London to start our shifts at 5am, this is where many of us provided stewarding at the local screening sites, while helping and directing members of the public. After the Coronation we also supported with the public getting out of London and even managed to do a small amount of site seeing late into the evening. On Sunday we reflected on a successful weekend and how we helped support the Coronation and members of the public. We also used this time to celebrate the younger members within Scouting who were part of the 50 explorer scouts which represented scouting in a private screening service at St Margarets Church.
As Scouts, we take a promise to do our duty to the King, and we were able to uphold this with our work by helping people navigate London and enjoy the special day. We were also able to represent the 57 million scouts from across the world as we expressed our congratulations to the Royal Family. We were extremely proud to be supporting so many people visiting London, during a historic day whilst serving the nation and helping other people.
- Joshua Marshall
Thank you so much Joshua for sharing your amazing experience with us! If Joshua has inspired you to get involved with Scouts you can find out more by clicking here! You can also read more about how the Scouts supported the Coronation weekend by clicking here.