Bronze medal win at AoC Sport National Championships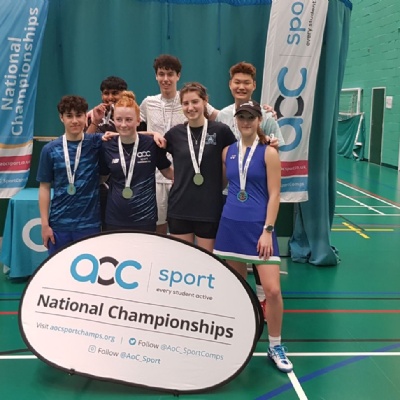 Over the Easter Holidays two of our students joined forces with students from Hills Road, CRC, USP and Colvic colleges to form the Eastern Region Badminton team. A great weekend was had by everyone, our Sport Services Manager Matt gives us the full weekend round up below...
DAY 1: Friday 14 April
After a few hours on the minibus, we arrived at the University of Nottingham and got settled into our accommodation for the weekend. No matches for us today, so this was a good chance to explore the facilities. Yize Gao and Tomos Jenkins are our two students this year, both competing as part of the Eastern Badminton team. Although we have 2 individual students representing Long Road, the Eastern team was made up of 8 male and female students in total from different colleges; Long Road, Hills Road, CRC, USP and Colvic. We are due to play matches in Men's Singles, Women's Singles, Men's Doubles, Women's Doubles and Mixed Doubles; giving everyone the chance to represent the team in different styles of matches. We spent Friday afternoon with our team members getting to know them and sizing-up the competition. The evening was spent enjoying the opening ceremony before an early night ready for matches tomorrow.
DAY 2: Saturday 15 April
A busy day for us today, so after a tasty breakfast we got ready for our first round of matches.
By 3pm we are placing 2nd in our group of 4:
We lost 3 games to 2 against the South West Region.

We won 4 games to 1 against Yorkshire and Humberside.

We won 4 games to 1 against the East Midlands Region.
Unfortunately we lost the play off match to South East Region team, 3 games to 2 - but we were the only team to take any games against them so that in itself is a win!
After dinner, we spent some well-deserved chill out time with our teammates ready for the final day of competing tomorrow.
DAY 3: Sunday 16 April
Yize has just won the 1st match (Men's singles) and a win from Hills Road (Women's singles) means we are now 2 - 0 up. One more win and we will claim 3rd place and the Bronze medals...
...Another win from Tomos and our CRC teammate in the Men's doubles! A clean sweep of 5-0, meaning we finished 3rd out of 9 and secured the Bronze medal!!
Everyone heading home with big smiles after an excellent weekend!