Team Sports Awards 2021/2022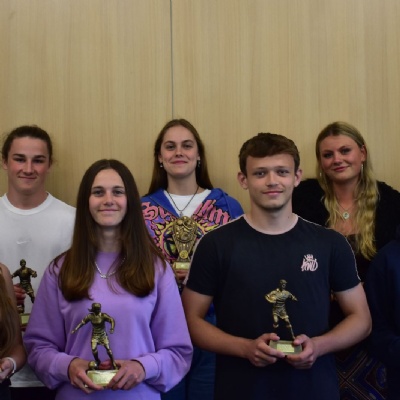 Below are some of the highlights from this year's end of season Team Sports Awards, well done to all students and staff involved this year and a big congratulations to our winners!
Men's Football – Matt Payne, Assistant Coach
The Men's Football season was a tough season this year. Both teams were mainly of a Year 1 contingent so with a new intake of students for the 2022 / 23 season, hopefully both teams will have more strength in depth within the squads. It was great to return to the Cambridge University Men's League this season where we get to play on some fantastic pitches. The Cambs Sixth Form League returned as well with more teams than the previous couple of seasons, so hopefully this will continue to grow moving forward. With a set of mixed results this year, we are all looking forward to adding a new year group of players to go with our current players moving into Year 2 and competing towards the top end of the table in both leagues.
Coaches Player of the Season award winner – Joe Haynes
This player was without a doubt, the most committed player of the season. He played in multiple positions through out the season and never really complained. He was always available for any fixture and one of the first to confirm availability each week. If we could have 14 players with the same mentality for both teams next season, success will follow with that. This seasons Coaches Player of the Season is Joe Haynes.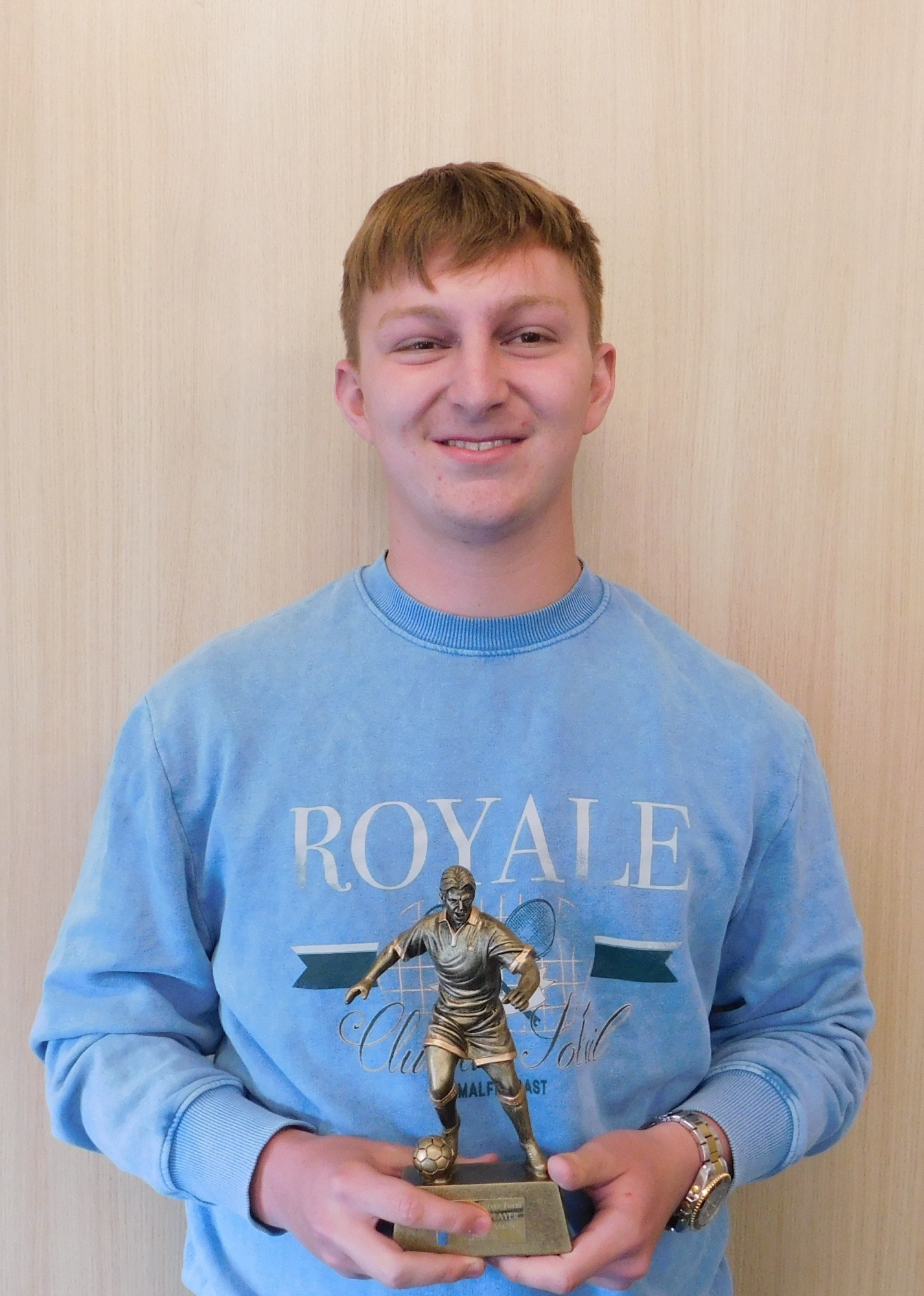 Players Player of the Season award winner –
Adam McCormack
Lots of different nominations came through for this award, but there was a clear winner in the end. He finished 4 votes ahead of the other nominations. He is another player whose commitment is never in question. He contributed with some key goals and assists this season, not to mention a goal of the season in the last game in the Cambridge University League with 10 minutes remaining to secure a 1 – 1 draw. Players Player of the Season is Adam Mccormack.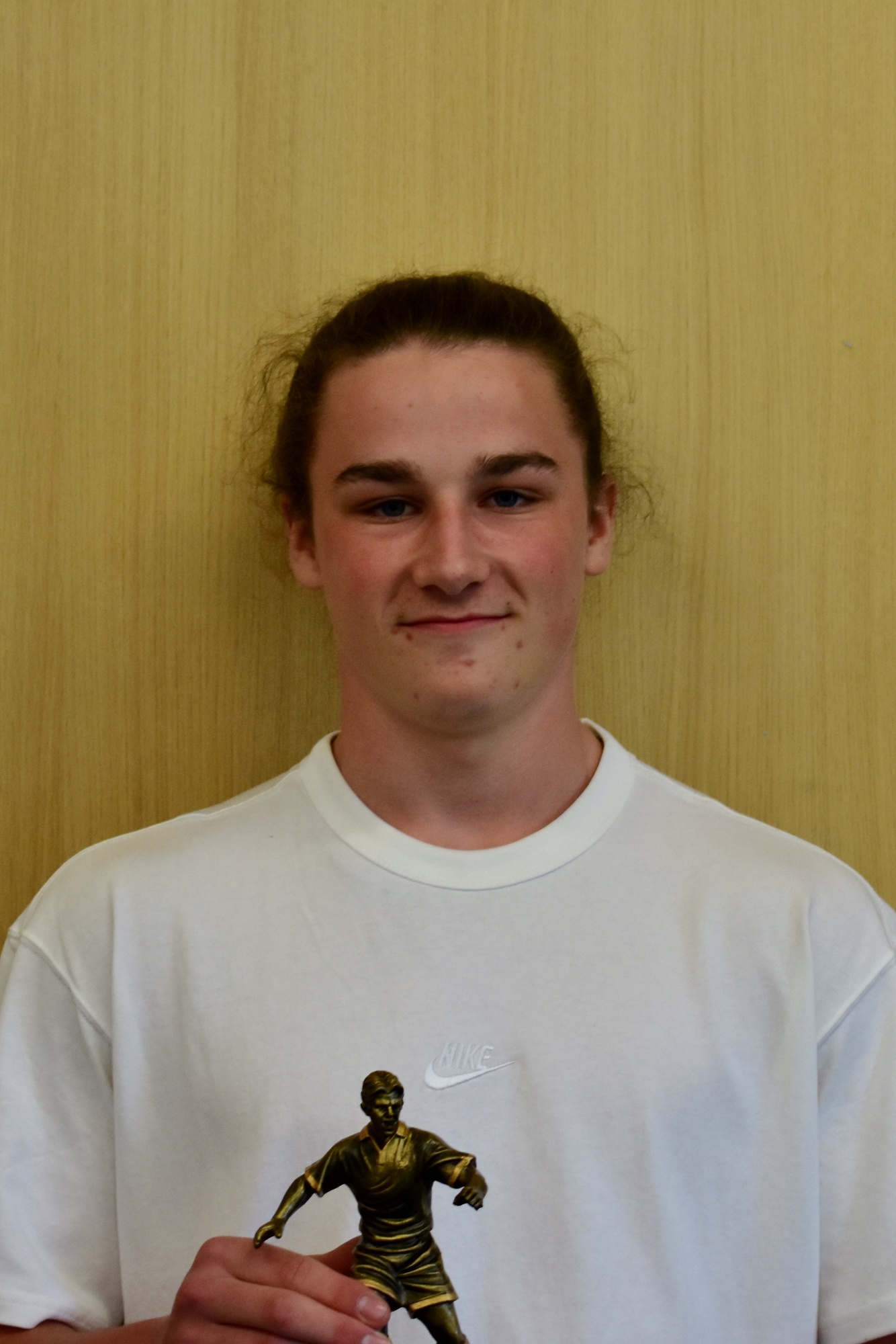 Rugby – Andy Peasey, Head Coach
This season for Long Road Rugby has on the whole been a really successful one. I was worried about the season ahead back in September as I knew we only had around 8 boys from the previous year 1 going into Year 2. We were fortunate enough to pick up a number of boys for the first few training sessions and travelled for our first match to Easton College with a very raw squad of 15. It was a tough trip losing 80-17 but this was a foundation we have grown and developed on ALL season. The biggest challenge for us at Long Road Rugby is trying to bond a group of boys who have arrived from different schools and play for different clubs at the weekend.
I just wanted to finish by saying that the Squad has really developed and grown and it has on the whole been a great season for Long Road Rugby making memories along the way and both Mike and I are REALLY looking forward to 2022/23. For those boys leaving Long Road onto pastures new I personally hope you have enjoyed your Rugby at Long Road and we have made some great memories together. I wish you well for the future and hope that you continue your Rugby journey in what ever that may be.
Players Player of the Season award winner – Ed Spencer
Whilst the final run in for this award came down to 2 people, I am pleased to announce that 17 boys all received at least 1 Vote for this award. I think that this really goes to show the camaraderie in the squad that has been built over the past 8 months. The Runner up for this award does deserve a special mention. I hope he wont mind me saying that he isn't the strongest Rugby Player in the squad but he has got a bit of a cult following within the group and is always at training and developing as a player and that is Kaan Arslan. The winner of this award has really shone as both a player and a leader in the group. He has become our first choice kicker in the past few games and he is going to be our 1st Team Captain next year the winner of the Players Play 2021/22 is Ed Spencer.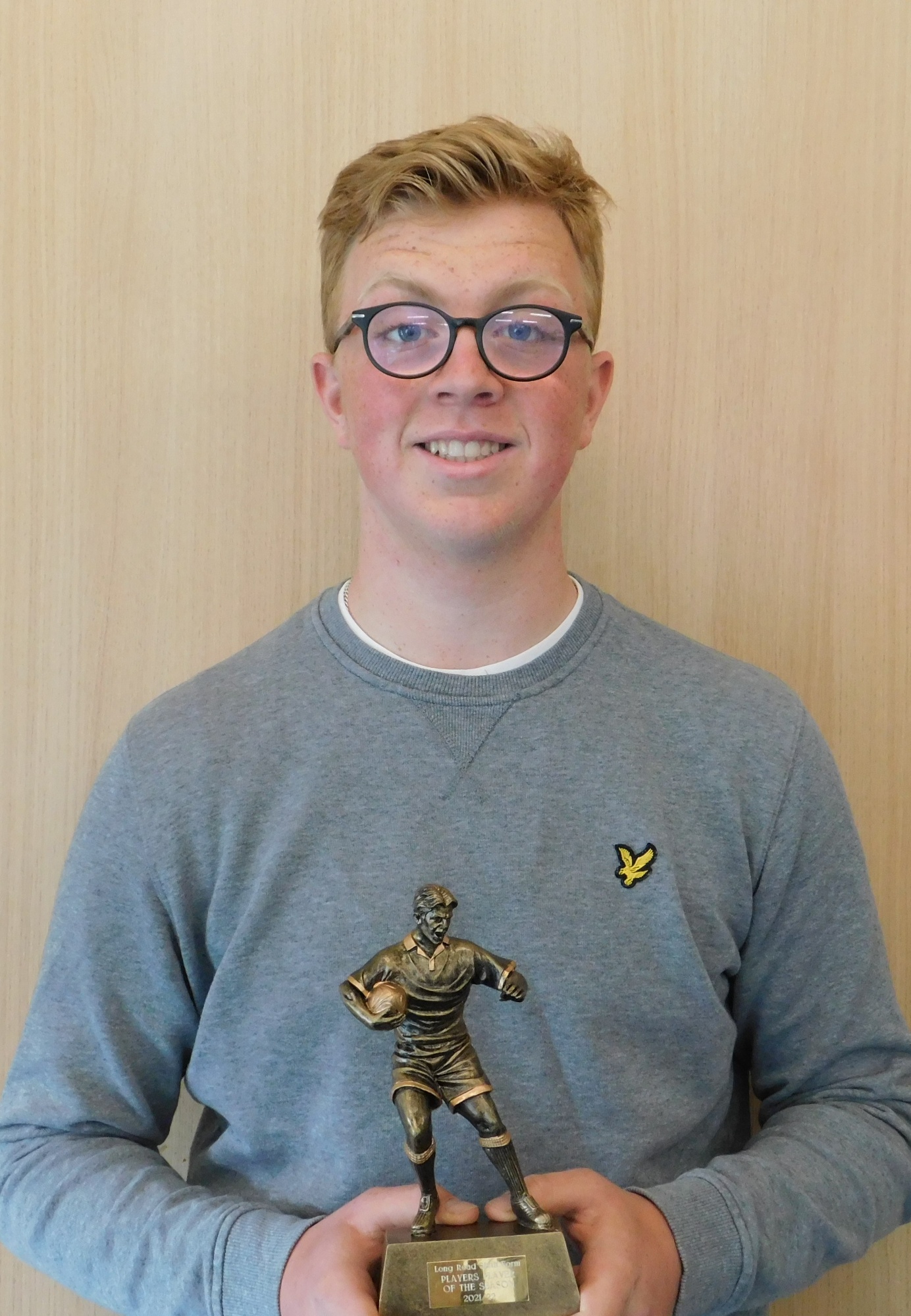 Most Improved Player of the Season award winner – Atsemngang Chiy
There have been some real improvements throughout the season. One special mention is to Aled who has done really well this year. But the winner of this award goes to a young man who hadn't played any rugby since the age of 13 and turned up mid season to take part. He started on the wing then v Sigma college due to low numbers Mike and I decided to play him as a Flanker and he took to it like a Duck to Water and he has improved every game since then. Scoring 4 tries v CRC Atsemngang Chiy is our Most Improved Played of 2021/22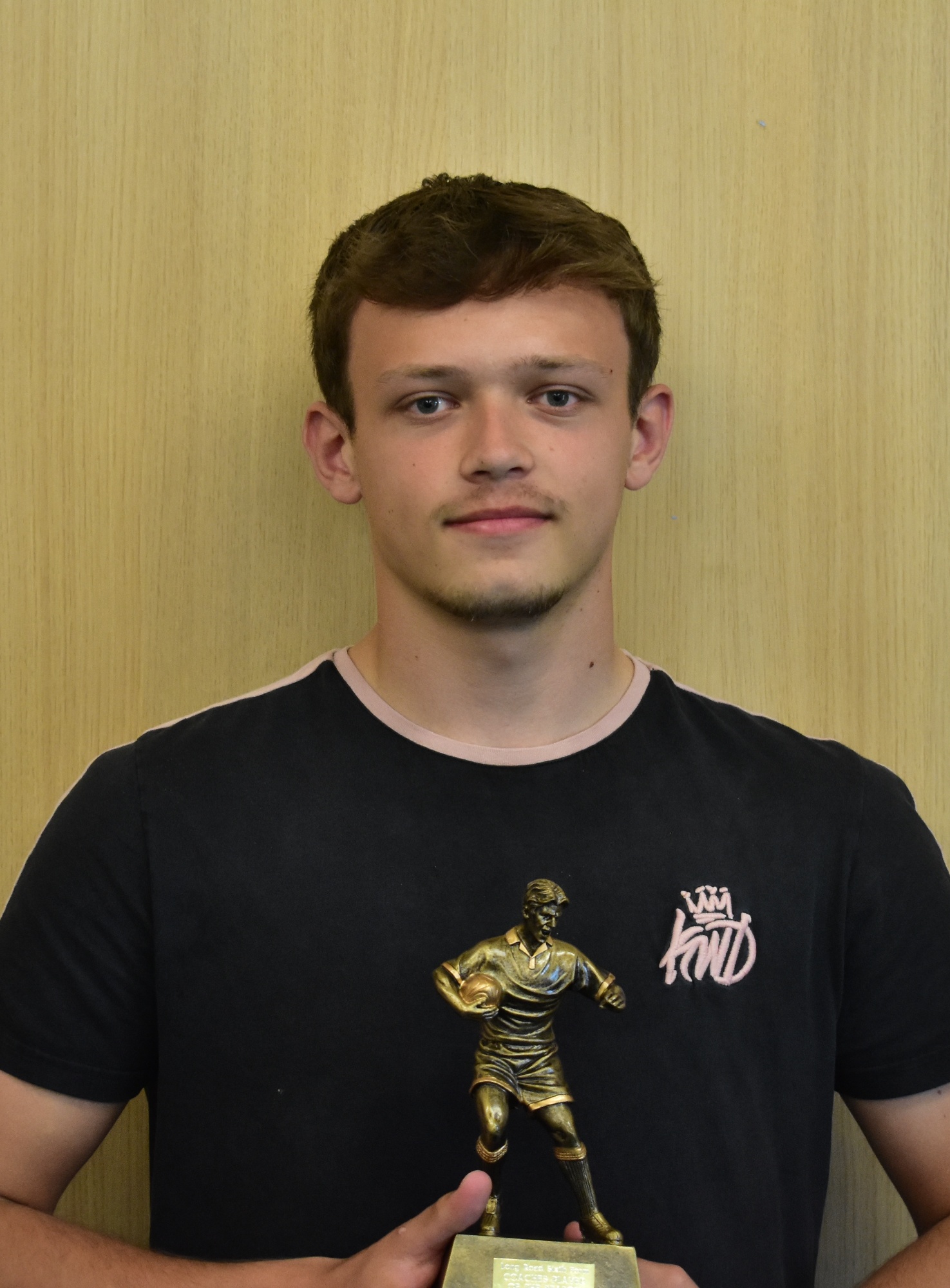 Netball – Lynne Little, Head Coach
A mixed year starting with more players than we had ever had and running 2 teams. We had some great games, with competitive games in the league and tournaments. A period of no matches resulted in a lack of momentum and we struggled fielding a squad in fixtures, often going to matches with only 7 players! The team always played hard, we have some very talented players, but it was difficult to win games against oppositions with squads of 10, who could bring on 'fresh legs'. I have really enjoyed leading the team, who are a great bunch of girls, supporting each other and having fun. I can even forgive them for constantly nagging me to stop at McDonalds! Isla and Phoebe, my co-captains were a vital support to me and the team throughout the season – great players, good communicators and knowledgeable about netball.
Player's Player of the Season award winner –
Phoebe Nicoll
Phoebe achieved the Players Player award for her 'awesome' defence skills.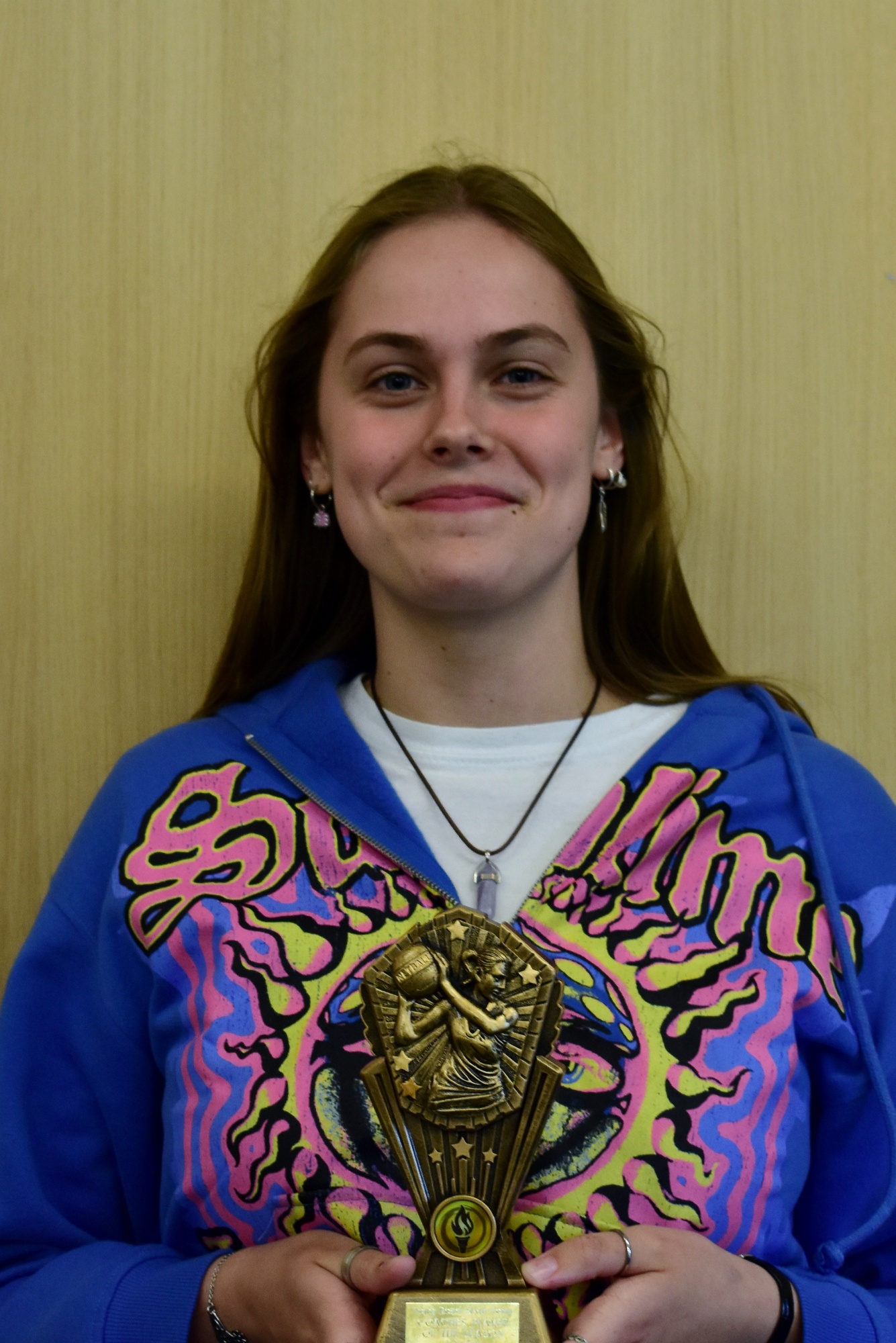 Coaches Player of the Season award winner –
Lana Cotterill
Lana achieved the Coaches Player award, she is a talented and versatile player who was also very supportive of less experienced players on court.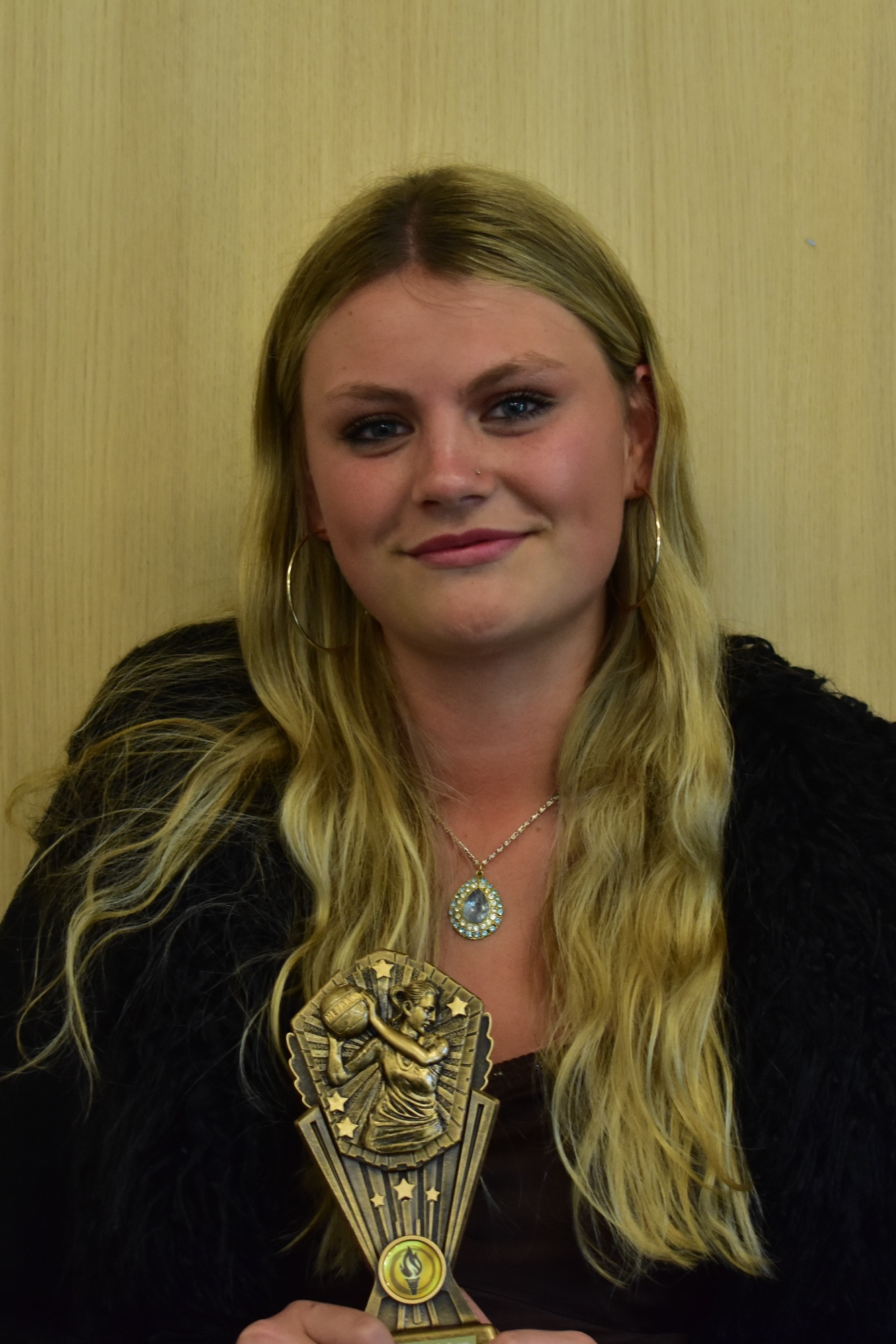 Mixed Hockey – Ben Hudson, Head Coach
Having not been able to field a side for the 20/21 season due to a lack of players, 21/22 saw a huge uptick in participation with a core of 15-20 players attending every week for training, mixed and female fixtures against sides such as Hills Road, Saffron Walden County High, Cambridge University, Oaklands and Colchester SFC.
We were extremely competitive throughout the season despite the general high standard of opposition. A number of players improved significantly and we formed a really cohesive and highly committed unit led by two amazing captains, Owen Carford & Lucie Swann.
Having coached hockey at Long Road for over 15 years I can honestly say that whilst results didn't always go our way this group have been the most coachable, committed and inclusive squad I've had the pleasure to be involved with.
Player's Player of the Season award winner –
Flynn Patterson
The 'Players Player of the Year Award' deservedly went to Flynn Patterson for his 'outstanding commitment in both training and games' & 'his excellent skillset'.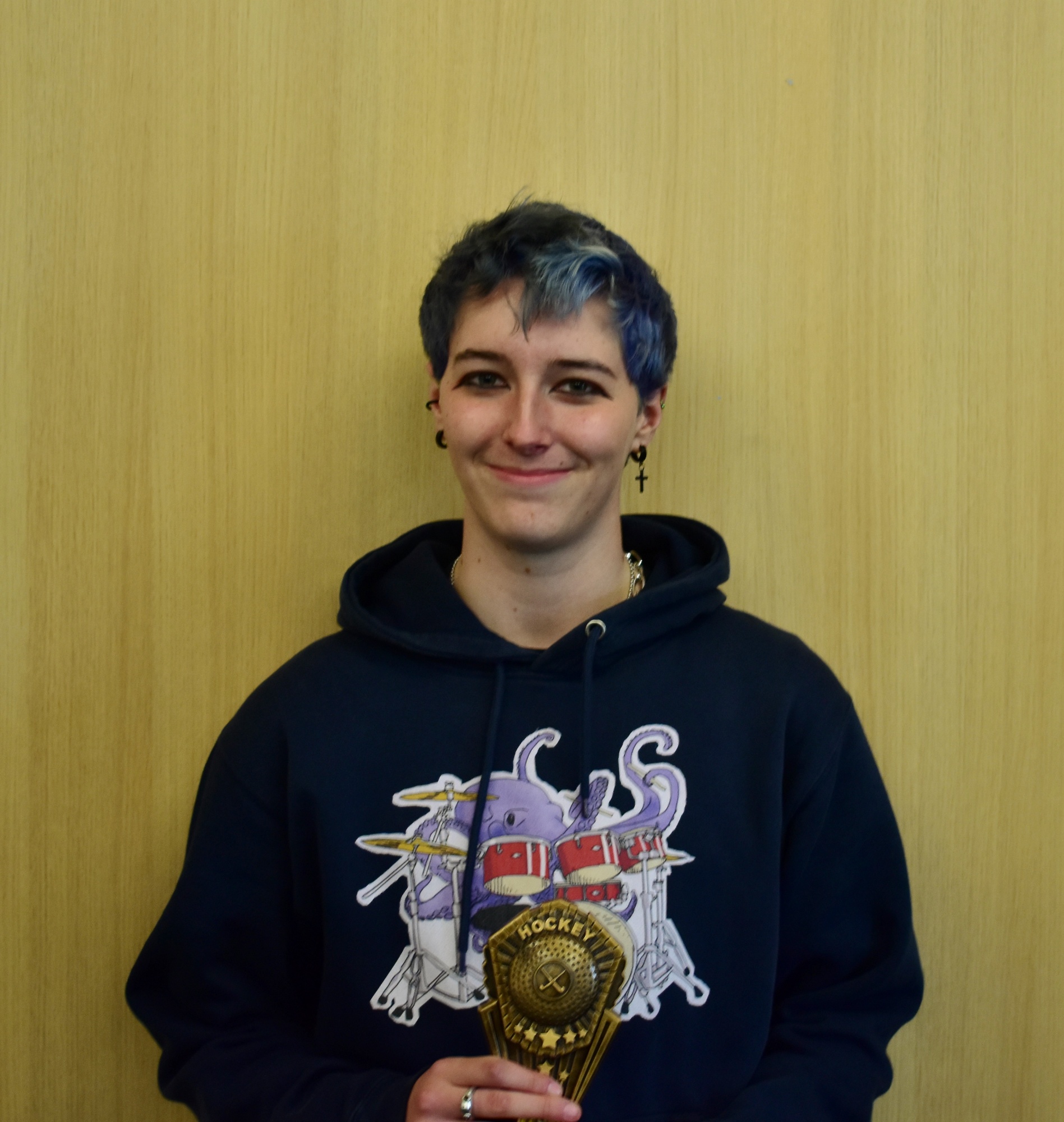 Coaches Player of the Season award winner – Lucy Harris
The 'Coaches Players of the Year Award' went to Lucy Harris who has developed enormously as a player throughout her two years, she is a dream to coach, eager to learn and has a first class attitude on the pitch at all times. Her particular highlight was the goals scored to snatch a draw against Hills Road earlier in the season.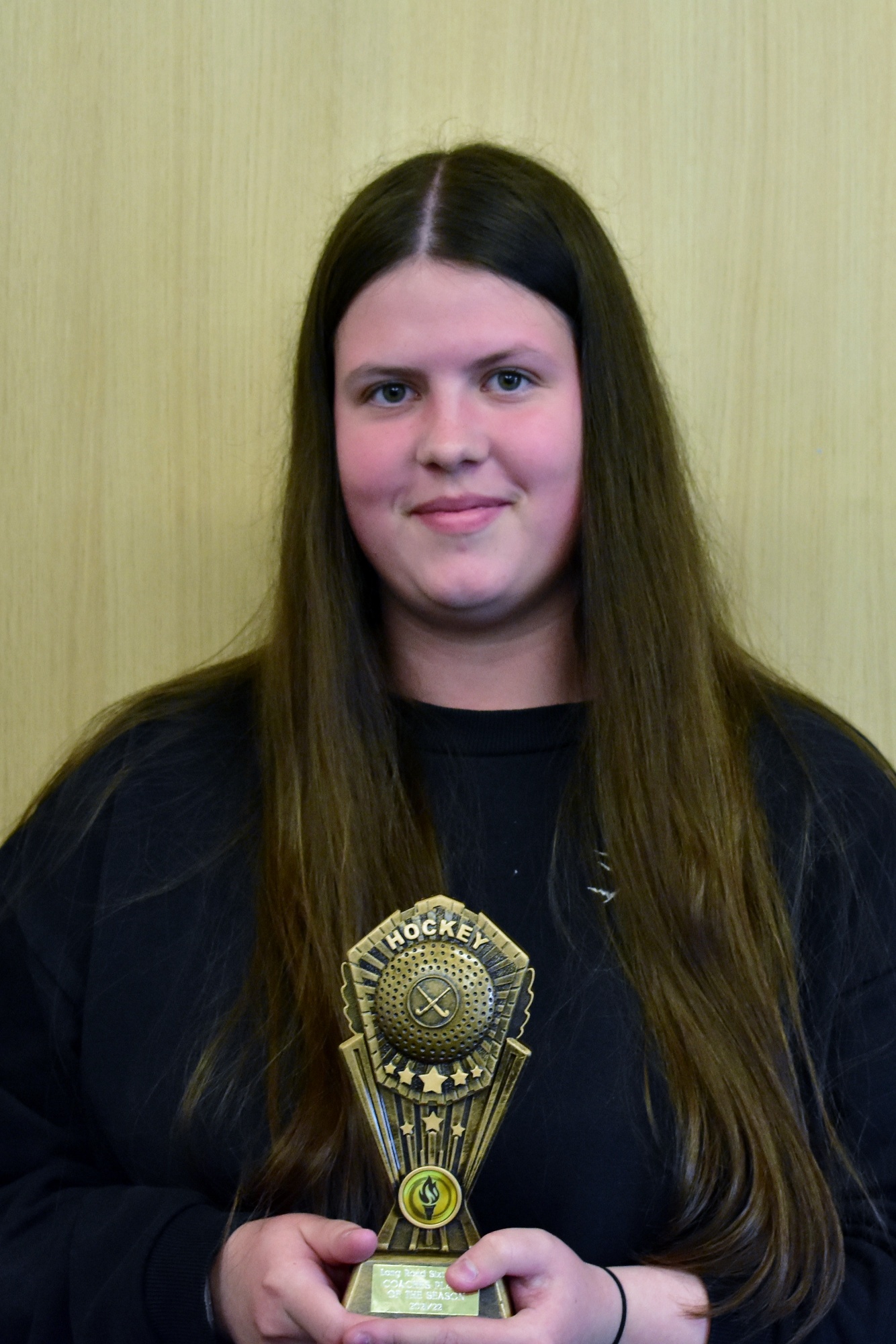 Women's Football – Matt Payne, Head Coach
Our Women's Football team have had a very successful season. They won the AoC Sport Eastern Region 7 a-side tournament, remaining unbeaten for the whole competition, to qualify for the AoC Sport National Championships. This took place just after Easter, over a long weekend where the girl's came up against teams such as West Bromwich Albion Academy, Tottenham Hotspur and Brighton and Hove Albion as well as other college regional winners across the country. It was a really tough competition in which the girl's finished 8th out of 10th. This is a huge achievement considering that our college team only train / play fixtures once a week and are not all playing in teams outside of college.
On top of being the 7 a-side Eastern Region champions, our women's team also managed to win their 11 a-side ECFA East Women's Regional League. It went down to the last game of the season, at home VS CRC (Cambridge United Scholars) in which Long Road prevailed 3 – 0 winners. They finished the league campaign with 6 wins, 1 draw and 1 loss.
This particular group of players have been one of the best Women's Football teams we have had at Long Road. Not just because of the football success they have had this season but also the togetherness of the players. Always looking out for / supporting each other both in and out of the football team. They all get along and enjoy the social aspect of being involved in college sport.
Player's Player of the Season award winner –
Jessie Fitzpatrick
It's been a few years since I have witnessed Player's Player of the season votes be as close as this one was. Although 7 different players received nominations, there was 2 run away leaders with the votes. It got decided by a single vote and by the last player to get her vote in. In the end the winner was Jessie Fitzpatrick. Jessie did not get to play as much as she would of like to in the first part of the season but her contribution in the 2nd half of the season was recognised by all players and the coach. Chipping in with goals and assists in key games but a phenomenal work rate as well. Jessie was also a contender for the other award up for grabs.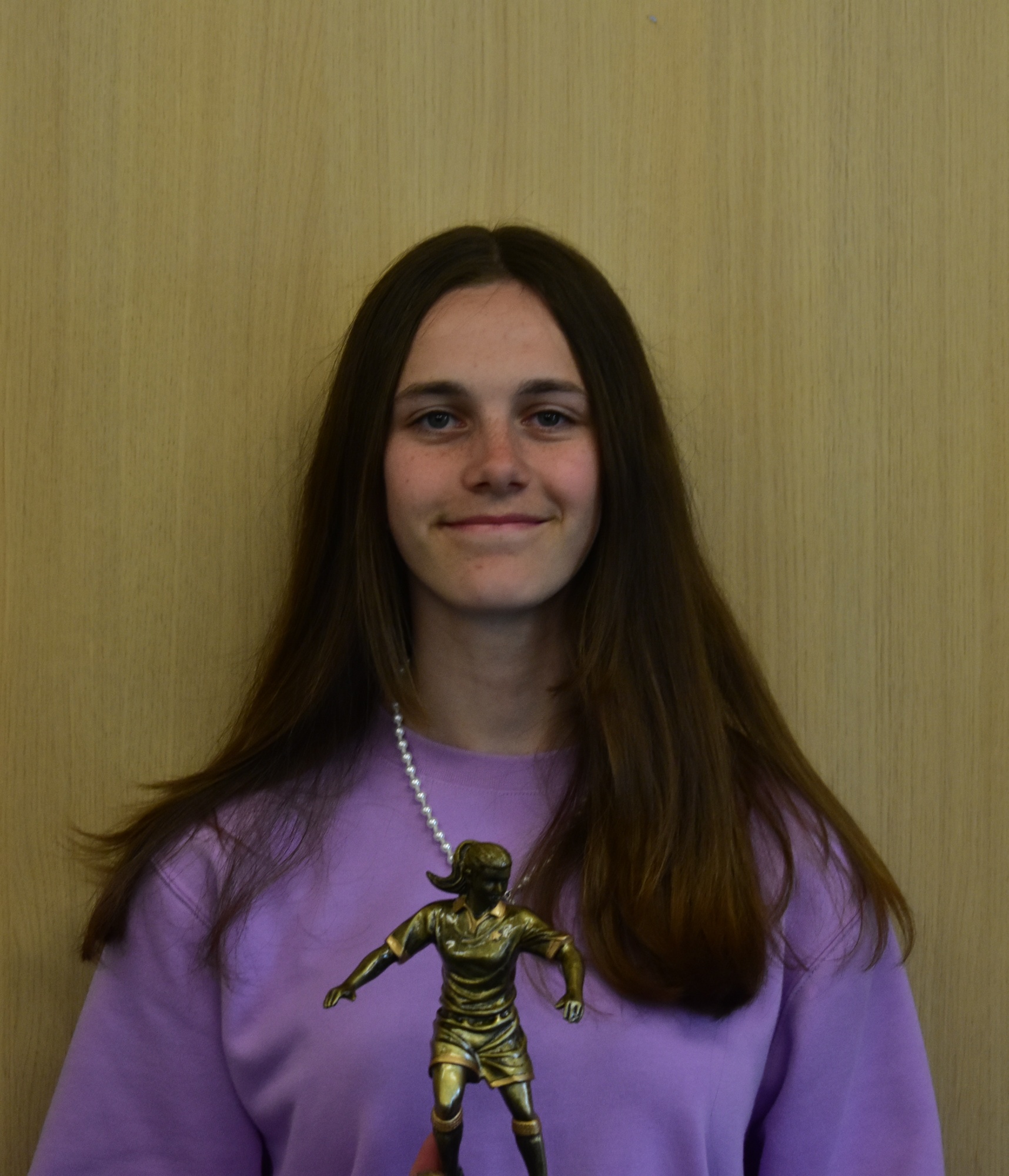 Coaches Player of the Season award winner –
Charlotte Smith
This player has finished her 2 years at Long Road now and will be really missed. She has a really good mentality to succeed in the classroom as well as on the pitch. She always seems to be smiling and happy and as a result, her personality rubs off on other people to want to be the same. Her football journey at college was disrupted at the beginning of her first year due to illness. She managed to bounce back though, got herself fit again and has been a main stay in the team over the last 2 seasons. A versatile player who can play in any position in the back line or midfield who has also added more goals to her game this season. Charlotte Smith was a well deserved winner of the Coaches Player of the season award.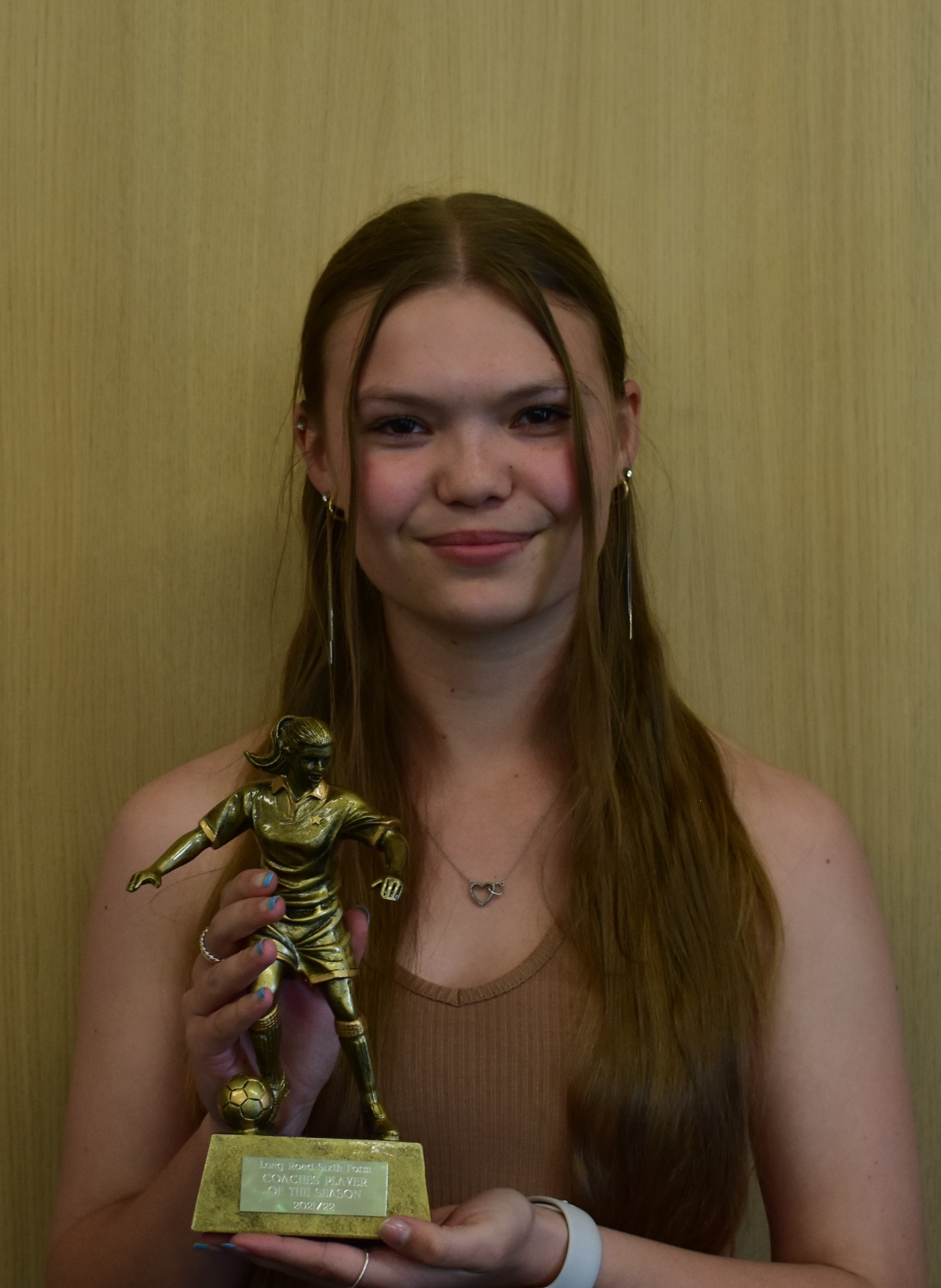 Basketball Academy – Pete Charlwood, Head Coach
Great Awards afternoon at Long Road Sixth Form College with our academy squad celebrating one of its most successful seasons to date. Finishing 4th position in the ABL as well as East Region AOC Champions and finishing 7th at the AOC Nationals U18s Finishing 2nd in the NBL as part of Cambridge Cats Basketball U18s NBL Squad. A fantastic Season, congratulations everyone.
Most Valued Player of the Season award winner –
Dan Batcheler
Dan has been on the Academy programme for 3 years and has been a consistent and high level performer during his time on the programme. For the second year in a row the squad has voted him MVP of the season which is a credit to the hard work and leadership that he has shown both on and off the court. Dan finished as top scorer for the squad this season averaging 20 points per game. Dan is hoping to graduate to Solent University to continue his basketball and academics Journey.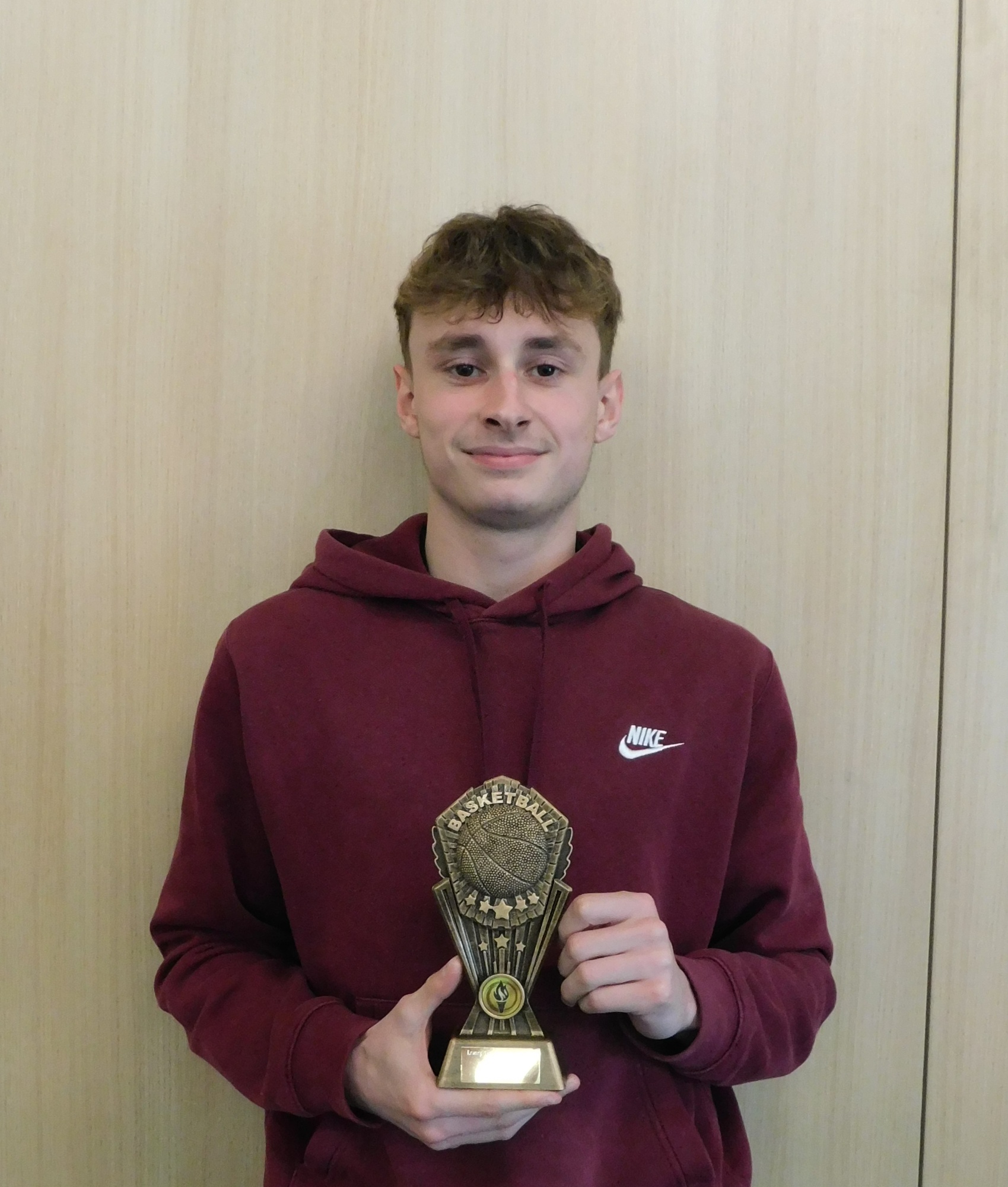 Most Improved Player of the Season award winner –
Adriano Fiorin
AD, as he is affectionately known amongst his team mates, started this year with relatively limited basketball experience particularly at club/ academy level. He has worked extremely hard to accelerate his knowledge and understanding of the game and his skill set. He has shown significant improvements on both fronts and is very much deserving of the Most Improved Players award as voted for by his teammates. He has a bright future in the game basketball.