National Voter Registration Day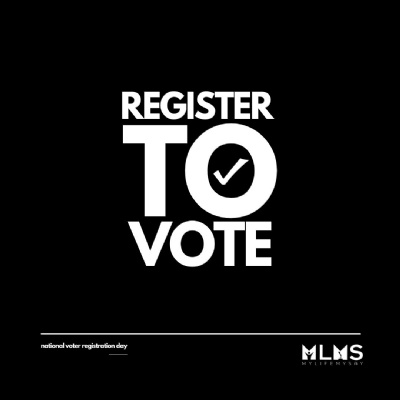 Today is National Voter Registration Day!
We're here to support you in getting registered and to make sure you have everything you need to be able to have your voice heard at the local elections this May.
Use your voice and #RegisterToVote.
How do I register?
If you haven't already registered to vote, why not? It only takes 5 minutes and can be done completely online. To get registered today simply click here: https://www.gov.uk/register-to-vote
When do I have to register by?
You can register to vote at any time, but if you want to vote in the upcoming local elections in May you need to be registered by 11:59pm tonight.
I'm not 18 yet, is there any point in me registering?
YES! Anyone aged 16 or over can register to vote, although you won't be able to vote until you are 18. If you've got a spare 5 minutes why not just register right now?
How can I research my local candidates?
The fantastic team at Democracy Club have been working hard to pull together candidate information, and you can now head to https://whocanivotefor.co.uk/, pop in your postcode and see the candidates that are available in your area. Even if you are too young to vote, you can still put questions to the candidates!
I've heard I need ID to vote?
That's right. The way voting work has recently changed, and you now need a valid form of photo ID when you cast your vote in all future elections (including the upcoming local elections in May). You can still use your photo ID even if it's out of date, as long as it looks like you. The name on your ID should be the same name you used to register to vote.
The photo ID needs to be the original version and not a photocopy. Accepted forms of ID include: Passport, Drivers licence, blue badge, PASS card, Voter Authority Certificate and more.
What is a Voter Authority Certificate, and how can I get one?
You can apply for a free voter ID document, known as a Voter Authority Certificate, if:
you don't have an accepted form of photo ID
you're not sure whether your photo ID still looks like you
you're worried about using an existing form of ID for any other reason, such as the use of a gender marker
You need to register to vote before applying for a Voter Authority Certificate.
The deadline to apply for a Voter Authority Certificate is 5pm on Tuesday 25 April.
Is there an ID card I can use for voting and in everyday life?
YES! NUS have teamed up with CitizenCard to offer students a voter ID card (usually £15) for free using the code NUS or by clicking this link.
You can use the card to prove your age and identity - enter pubs, clubs, take domestic flights, use as Voter ID and buy age-restricted goods in shops.
Bearing the PASS hologram, the CitizenCard is well-established as the UK's most widely-recognised ID card. Even if you have a passport or driving licence, keep those IDs safe at home and apply for a CitizenCard for everyday ID and proof of age needs.
All cards display one of the following age bands relevant to your age at the time we send your card:
'18+' for adults
'16-17' for young people over 16
'Under 16' for children