#LetGirlsPlay - biggest UK girls football event!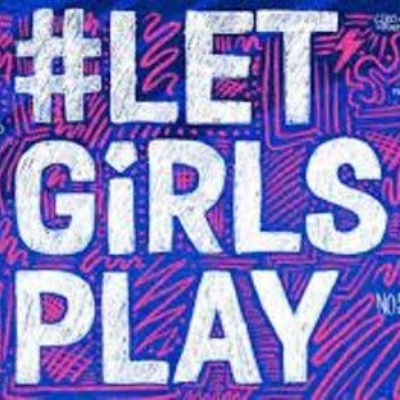 On International Women's Day, a group of our Level 3 Sport Diploma students hosted a girls football day at Swavesey Primary School; taking apart in the biggest ever girls' football day!
On International Women's Day over 90,000 girls across the UK took part in playing football as part of the #LetGirlsPlay event. We wanted to promote football being equal for girls; our event was for all ages and abilities, but girls only! The aim of our promotion was to give girls the opportunity to have their time and their moment to enjoy the sport; for girls to feel comfortable playing football; for girls being able to realise that football is not only for boys.
This event felt ideal for us as girls who all play football and have felt that there is a massive split between girls playing football to boys; we feel that girl's football isn't valid and doesn't get the recognition it deserves.
Our Event:
Colour cones heads up

– The aim of the game is to

pass and move, they get into 2 or 3s

. There will be four colour gates: Red, green, blue and white. The coach will hold a colour cone up, and they must pass and move the ball through that colour gate for point.

Reaction finish

– This drill there will be two lines in those lines each participant will have a number 1 to 5. The coach will call out a number and both participants race

by going over hurdles and meeting in the middle to get a ball each then race to

finish the ball by shooting in the goal.

Hungry Hippos

-

There's four mini teams and zone in the corners, one person from each team competes against others to run into the middle and collect one ball at a time, and the next person in their team goes until there's no balls in the middle. The team with most balls in their zone wins. Next round is to collect as many balls as possible from other zones whiles trying to maintain and defending the amount of football you already have.

Ball control obstacle race

– There will be 2-4 teams where each team aims to collect as many cones as possible, one person per a team must dribble the ball through the obstacle and collect one cone then pass the ball accurately back to the next person. This helps with working at face pace under pressure whilst having ball control.

Football ball-dog

– There is a tagger or more in the middle of the area, everyone else has a ball and their aim is to dribble their ball to the other side without the taggers tackling the ball off them, if they successful tackle the ball of an induvial, they become a tagger.

Coloured boxes

– There will be different colour boxes in the area, the participants have to drill the ball and listen for the coach to shout out a coloured box and all quickly get into the box

Mini Match

– A mini 7-aside girls football match, the same principles and rules with a few adjustments such as having to pass the ball a certain amount of time before scoring.
We were delighted to received wonderful feedback from Swavesey Primary School PE Teacher, Mrs Turain, who said...
"Throughout an extremely cold, sleety and muddy day EVERY GIRL in school took part in a session on the field with me, and 5 amazing students from Long Road Sixth Form College. A couple of the students are already Level 1 football coaches and work in football holiday camps. They were very inspiring young ladies and kept their motivation going throughout every session.

Each session was made up of four fun games / drills, enabling the girls to have fun with a football, some for the very first time!

I've spoken to lots of the girls since the day, and apart from the weather conditions, they all really had a great time and hopefully some have been inspired to join the boys, with lunchtime football on the field when it is a bit drier!!"

For us as Sport students, we loved the event and would do it again! It was a joy to see so many girls inspired by our sessions, the numerous smiles that the girls gave us warmed our hearts. The event was brilliant, despite the cold weather, the children didn't let it ruin their experience. It was an inspirational day for the girls and myself; I remember I was in the same shoes as them at their age. It is amazing to see football for girls grow and for us to achieve our goal of promoting girls football!
- Thana Udnun, Keira George, Georgia Maggs and Abi Newton