Mock Interviews with industry experts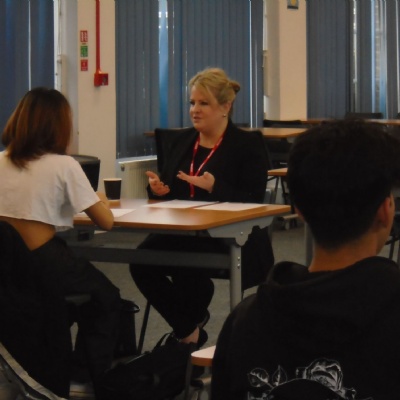 This week 40 of our students took part in mock interviews with a range of industry experts.
Forty Long Road students were able to take advantage of the expertise of our Form the Future CIC volunteers to do mock job interviews on 14th March. A big thank you to Sharon Livermore, Kayleigh Delacey, Natalie Phillips, Peter Buncombe, Sonal Keshwala, and Long Road alumna Megan Hedley!
The feedback was overwhelmingly positive: 93% gave the event the maximum five star rating and the rest gave four stars. Some of the comments included: "Interviewer was very warm and welcoming. Made me feel comfortable", "I enjoyed the interview feel and setting. Better than an interview with parents", "I liked the friendliness, made me feel less nervous", "Confidence shown helped me feel more comfortable and confident. Liked the engagement and interest shown in me. Nothing could've been better."
If you are an employer and might be interested in taking part in future mock interviews or coming in talk about your industry please contact us at careers@longroad.ac.uk.