Cambridge Arts Network Conference 2023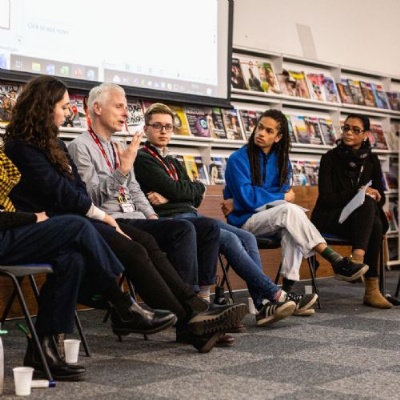 We were delighted to participate in this year Cambridge Arts Network (CAN) Conference on the value of the creative and cultural economy in Cambridge on Friday (22 February 2023).
One of the sessions was live-streamed form Long Road Sixth Form for the first time. Focusing on Setting a Pathway to the Industry, our Level 4 Foundation Art students got together to quiz members of our expert panel: Rosie Cooper, Michaela D'Agati, James Ward, and Max Louth. Together with three of their own who sat on the panel itself, students came up with an extensive array of questions on how to access creative careers and how to develop themselves as artists and creators.
We are very grateful to the speakers and the organisations they represented including Wysing Arts Centre, 20Twenty Productions CIC, and ARU of course. Special thanks also to our chair Ruth Laslett, Head of the Visual Arts and Performance Department at Long Road, Kelcy Davenport, Level 4 Foundation Art teacher, and Akua Obeng-Frimpong of Cambridge City Council, the organisational mastermind behind the whole conference.
Our Careers Leader Tariq Sadiq also sat on a panel earlier in the day to discuss Creative Influence on Skills and Careers with Anne Bailey of Form the Future CIC, Lucy Laing of Cambridgeshire and Peterborough Region of Learning, Skills and Opportunity, and Tim Gardiner of Access Creative College.
We look forward to developing the excellent links made between students, teachers, and our creative industry experts and to taking part again next year!
Photo credits to Daniel Sandford, Long Road Sixth Form College.