Long Road hosts first Cambridge Student Forum summit!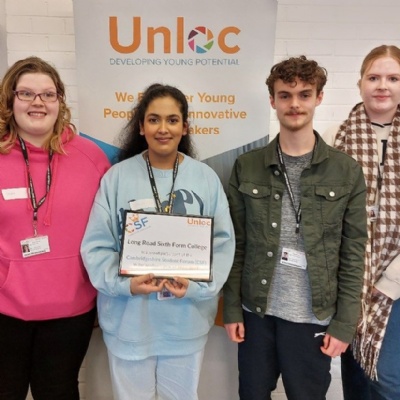 On Friday 20th January, Long Road hosted the first Summit of the Cambridgeshire Student Forum; an opportunity for students from schools across Cambridgeshire to meet and discuss the issues they face as students and citizens.
Thirty-seven delegates from Long Road, Sancton Wood, Cambridge Academy for Science and Technology, Comberton Village College, Hills Road Sixth Form College, St. Andrew's college and the Thomas Clarkson Academy were in attendance.
Having discussed the importance of student voice, and been introduced to the UN Conventions on the Rights of the Child, focussing on Article 12, "Respect for the Views of the Child', students worked in action groups to identify issues in their community or city which they felt needed to be addressed. Groups presented their findings, speaking to issues including public transport, prices, a lack of rural bus routes and the need for low carbon alternatives; Gender inequality including curriculum structure and mental health; Online influences on young people such as far left or right propaganda, mis and dis information and radicalisation; and the need for further guidance in independent learning.
Finally, action groups were asked to identify topics, based upon their own groups' interests and skills which they would look to work on in their own institutions over the coming months. Group leaders and vice-leaders were chosen by the groups themselves and action points were laid out by the leaders for each member.
Over the coming months, our students will be working with College staff and management to first identify and then implement routes to change in their chosen areas. We will meet with the rest of the delegates for a second time in April, at Comberton Village College.