What to do if your lesson is cancelled or your teacher is not in college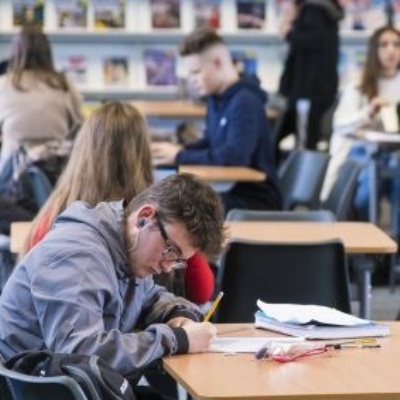 Our aim is to never cancel lessons, however, there are occasions when there is no alternative. This may be because of teacher illness with no available cover, or industrial action, when lessons aren't covered. Read below for our quick guide on what to do if you find yourself in this situation...
If your teacher doesn't arrive at the start of a lesson, please check the subject office first and see if another member of staff has work for you. If there is no one there, contact Reception.
We expect students to be able to be self-motivated and self-directed in these circumstances and to proactively make good use of the time.
The following situations may occur:
Another teacher, or Head of Department, may come to the lesson and set some work to be completed. This may happen if a teacher is unexpectedly absent on the day. A register will be taken of students who are in the classroom and who collect the work. You may stay in the room to complete the work, with someone popping in to check on you, or you may be told you can go and work elsewhere.
Your teacher sets you work on Teams or Moodle. If your teacher knows they are going to be away (for example on a trip), they may set you independent work. You may have a choice of where to complete this.
The lesson is cancelled, and no work is set. This is very rare, and likely to only occur where industrial action (strikes) are happening. In these instances you need to be proactive and seek out appropriate activities to make sure you keep up with learning.
If you're reading this page chances are your lesson has been cancelled, no work has been set, and you're unsure on what to do next. First off, find somewhere comfortable to work (the LRC is a good place to start) and then tick off some of the activities on our list below:
Check Teams or Moodle folders for revision materials or extra resources that your teachers have already put in there.
Go over previous learning and making revision cards, mind maps or other summaries of learning.
Finding past paper questions to practice (some courses will have these on Moodle or in Teams. You can also look on the exam board websites, some will have past papers you can access online).
Using the free ebooks site and searching for revision guides and workbooks for your subject.
Use Clickview to access subject videos. Use your college email address to log in.
If you have completed academic work, use Unifrog to help you think about university applications.
True or false?
If your teacher doesn't turn up for 15 minutes you're allowed to leave the lesson.
FALSE! - We've all heard this urban myth before, but there is no 'rule' or law that says you can go if no one turns up for 15 minutes (or any other length of time).