Win £150 and help our college at the same time!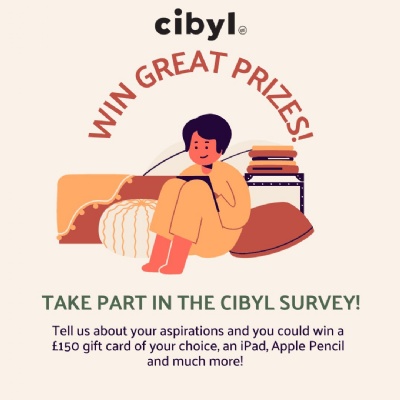 Long Road Sixth Form College needs your feedback to continue to give you excellent careers support. This year we're taking part in the Cibyl survey, one of the UK's largest careers aspirations surveys.
Their reports will tell us how satisfied you are with the career guidance, as well as which employers you aspire to work for. Take the survey, and you'll be giving us valuable feedback.
In return for your help, Cibyl are giving away...
a £30 Amazon gift card (given away every week – 10 to give away!)
a £150 gift card of your choice (three given away when the survey closes)
an iPad, Apple Pencil and keyboard (one given away when the survey closes)
Click here to enter the competition!
Tell us what you think about the employers you like, and how you're feeling about your future career. Cibyl will continue to use the results to put together research reports to help employers across the UK, so that they know what kind of job you want.
It only takes 15 minutes, it's anonymous and you can take it on your phone!