STEM Careers Fair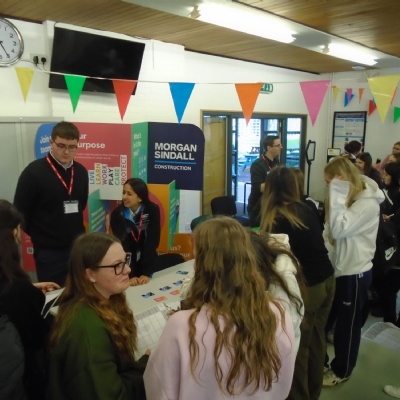 On Friday 6 January, Long Road Sixth Form college held its STEM Careers Fair and had the exciting opportunity to host guests from businesses across Cambridge. The event was set up to show science and health & social care students how expansive and varied the many roles available in the fields of Science, Technology, Engineering and Mathematics, and that there's more to finding a career in science than just wearing lab coats.
Science and health & social care students met with a broad range of companies, some of which they had no idea could even be considered a STEM company. Whilst health & social care students knew that they had a great deal to discuss with the East Anglia Ambulance Service and Cambridge University Hospitals, they were surprised to find how many roles were available to them with the British Army as well.
Students who might've thought that work in science ranges from engineers to people in white lab-coats hovering over test-tubes, got to see just how broad the field can be. They didn't just meet with bio-tech companies like AstraZeneca and Illumina. They also learnt that science could lead them to law firms like Venner Shipley who handle patent law, property companies like Morgan Sindall, airfields and aerospace engineering companies like Marshalls and innovative technology companies like Cambridge Consultants.
Students didn't just make contacts with STEM companies looking for bright-eyed students to join their teams, they also got to see them in action. Plenty of companies brought along gadgets to demonstrate what they get up to on the day-to-day. Whilst dB-Broadcast and CN-Bio's tech looked especially sci-fi, it was Domino Printing's exhibit which captured the most attention. Their fully operational printer amazed students by printing their names onto pens in no-contact printing which happened so quickly it looked more like a magic trick.
Cambridge is a great city for anyone interested in working in a STEM field, and our STEM students had a rewarding experience of seeing how enormously varied even a fraction of the many STEM opportunities lie out there. Our health & social care students meanwhile got essential face to face contact with some of the many opportunities that are available to them, both in obvious places like the NHS, but also elsewhere, in places they wouldn't have expected.