36 students successfully qualify as first-aiders!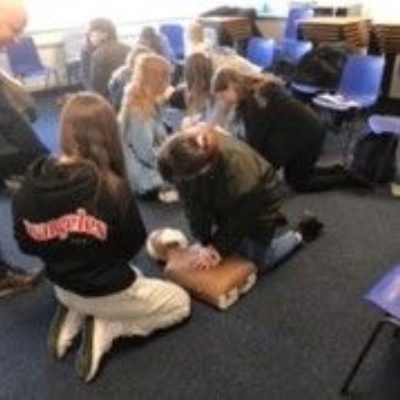 The college and the wider community of Cambridgeshire now have 36 newly qualified first-aiders, after health and social care students participated in a first aid course.
Last week, a group of our year 2 students spent a day learning vital lifesaving skills, including CPR, wound care and management of bleeding, and supporting individuals who are having seizures.
Our students were awarded with a first aid certificate that is valid for three years. Not only does this equip them with skills that are valuable to prospective employers and for careers in healthcare, but it also gives them the confidence to assist with first aid situations at home or when out and about.
Shane Chapman of PTE Skills delivered the courses over three days. Shane also offers training in other essential skills and knowledge required for the workplace, including mental health first aid. We will be inviting him back later in the year to provide further training for our students.